Winter Road Status

During winter, roads in the park may close due to snow and ice, especially at night when water from melting refreezes on roads. For road status information please call (865) 436-1200 ext. 631 or follow road updates at http://twitter.com/SmokiesRoadsNPS. More »
Mingo Falls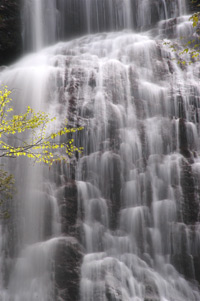 Robert Crootof Photo
Mingo Falls is on the Cherokee Indian Reservation (Qualla Boundary), just outside Great Smoky Mountains National Park. No special permits are required for access to the reservation. At 120 feet tall, the waterfall is one of the tallest and most spectacular in the southern Appalachians. The hike to the waterfall is only 0.4 miles in length, but is considered moderate in difficulty.

Access Trail: Pigeon Creek Trail
Trailhead: From Oconaluftee Visitor Center, drive south (toward Cherokee) on US-441 and take the second left onto Big Cove Road. At the first stop sign turn left and drive 4.5 miles to Mingo Falls Campground, where the trail begins.
Did You Know?

More than 240 species of birds have been found in the park. Sixty species are year-round residents. Nearly 120 species breed in the park, including 52 species from the neo-tropics. Many other species use the park as an important stopover and foraging area during their semiannual migration. More...