Trail Advisory

Several trails in the park are temporarily closed. Please check the "Backcountry Facilities" section of the Temporary Road and Facilities Closures page for further details. More »
Mingo Falls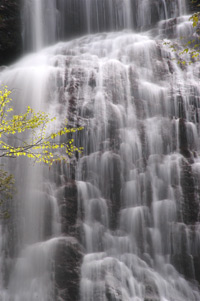 Robert Crootof Photo
Mingo Falls is on the Cherokee Indian Reservation (Qualla Boundary), just outside Great Smoky Mountains National Park. No special permits are required for access to the reservation. At 120 feet tall, the waterfall is one of the tallest and most spectacular in the southern Appalachians. The hike to the waterfall is only 0.4 miles in length, but is considered moderate in difficulty.

Access Trail: Pigeon Creek Trail
Trailhead: From Oconaluftee Visitor Center, drive south (toward Cherokee) on US-441 and take the second left onto Big Cove Road. At the first stop sign turn left and drive 4.5 miles to Mingo Falls Campground, where the trail begins.
Did You Know?

An experimental program to reintroduce elk to the park was begun in 2001. Elk once roamed the Smokies, but were eliminated from the region in the mid 1800s by over-hunting and loss of habitat. Other animals successfully reintroduced to the park include river otters and barn owls. More...