Winter Road Status

During winter, roads in the park may close due to snow and ice, especially at night when water from melting refreezes on roads. For road status information please call (865) 436-1200 ext. 631 or follow road updates at http://twitter.com/SmokiesRoadsNPS. More »
Elkmont Campground Water

Due to water line construction in the Elkmont Campground, drinking water will not be available in campground sinks. Containers of drinking water will be provided to campers upon check-in. We expect full water service to be restored by March 19.
Fontana Dam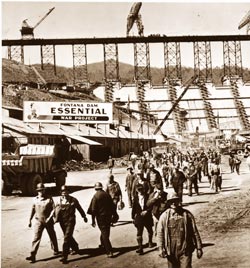 Highlights: tallest dam in the eastern United States, visitor center, Appalachian Trail, fishing
At 480 ft., Fontana Dam is the tallest concrete dam east of the Rocky Mountains. The dam impounds the Little Tennessee River forming Fontana Lake and produces hydroelectric power. Reservoir size is approximately 11,700 acres. There is a shoreline of about 240 miles. You will enjoy beautiful scenery in the area. Fontana Dam is located near Fontana Village, North Carolina.

A visitor center operated by the Tennessee Valley Authority (TVA) is open from early May until late October. Fontana Lake offers boating and fishing and access to remote, historic areas of the park like Hazel Creek and Eagle Creek.

Directions: Follow U.S. 74 west from Bryson City. Turn right at the State Highway 28 turnoff. Follow State Highway 28 until the turnoff to the right for Fontana Dam. From Maryville, follow U.S. 129 south. Turn left at State Highway 28. Go approximately 10 miles to turnoff on left for Fontana Dam.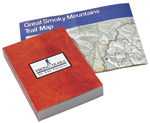 Visit Great Smoky Mountains National Park's official online store for books, maps, and guides to the park.
Operated by the nonprofit Great Smoky Mountains Association, proceeds generated by purchases at the store are donated to educational, scientific, and historical projects in the park.


Did You Know?

The wispy, smoke-like fog that hangs over the Smoky Mountains comes from rain and evaporation from trees. On the high peaks of the Smokies, an average of 85 inches of rain falls each year, qualifying these upper elevation areas as temperate rain forests. More...