Trail Advisory

Several trails in the park are temporarily closed. Please check the "Backcountry Facilities" section of the Temporary Road and Facilities Closures page for further details. More »
Fall Colors
Fall Color Report - mid September, 2014
The main fall leaf season is still more than a month away (mid to late October), but some early color is starting to develop on a few trees. Some dogwood trees have a reddish cast that will develop into brilliant reds later in October. Other species such as sourwood, red maple, witch hobble, sumac and blueberries are also beginning to sport a few red leaves, especially on trees and shrubs at higher elevation. Overall however, there's not much fall color to see yet -- just scattered trees here and there, and their colors are still just a hint of what they'll become in a few more weeks. Fall flowers such as asters, Joe-Pye-weed, jewelweed, ironweed, and golden rod are blooming now. And the colorful fruits of hearts-a-bustin' are splitting open.
For fall photos and updates from the park, visit our official facebook page at http://www.facebook.com/GreatSmokyMountainsNPS
You can also check out the park's webcams to see how fall colors are progressing:
Purchase Knob (high elevation)
Look Rock (middle elevation)
Look for another update in late September.
The park usually experiences an autumn leaf season of several weeks as fall colors travel down the mountain sides from high elevation to low. However, the timing of fall color change depends upon so many variables that the exact dates of "peak" season are impossible to predict in advance.

Elevation profoundly affects when fall colors change in the park. At higher elevations, where the climate is similar to New England's, color displays start as early as mid-September with the turning of yellow birch, American beech, mountain maple, hobblebush, and pin cherry.
From early to mid-October, fall colors develop above 4,000 feet. To enjoy them, drive the Clingmans Dome Road, the Blue Ridge Parkway, or the Foothills Parkway.
The fall color display usually reaches peak at mid and lower elevations between mid-October and early November. This is the park's most spectacular display as it includes such colorful trees as sugar maple, scarlet oak, sweetgum, red maple, and the hickories.
Fall Color Facts
Why are fall colors so remarkable in the Smokies? One reason is the park's amazing diversity of trees. Some 100 species of native trees live in the Smokies and the vast majority of these are deciduous.
How do colors change? As summer ends, the green pigments in leaves deteriorate, giving other colors a chance to shine. Carotenoids, the pigment that makes carrots orange and leaves yellow, are exposed as the green fades. Reds and purples come from anthocyanins, a pigment that is formed when sugars in leaves break down in bright autumn sunlight.
.

Plan Your Fall Visit
Autumn is both a beautiful and a busy time in the Great Smoky Mountains. The annual show of fall colors attracts huge numbers of sightseers, especially during the last three weeks of October. Areas in the park which experience the longest traffic delays are Cades Cove and Newfound Gap Road (U.S. 441). Try some of these suggested autumn drives and hikes to enjoy fall leaf colors in areas of the park that are a little less crowded.
There are no motels or rental cabins located within the national park. However, communities surrounding the national park offer a wide choice of accommodations including hotels, cabins, bed and breakfasts, and campgrounds. October is a busy month in the park, so it is advisable to make accommodation reservations as early as possible. Information about accommodations in the surrounding communities.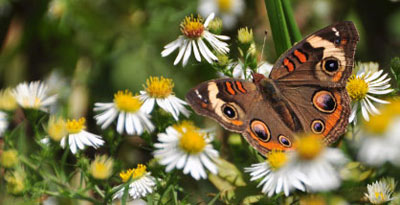 Gordon Ritter Photo
Vividly colored fall leaves may grab your attention, but don't overlook the park's fall wildflowers which bloom in profusion along roadways!
Did You Know?

The wispy, smoke-like fog that hangs over the Smoky Mountains comes from rain and evaporation from trees. On the high peaks of the Smokies, an average of 85 inches of rain falls each year, qualifying these upper elevation areas as temperate rain forests. More...