Camping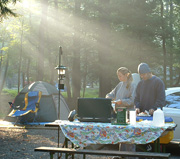 Amy Nichter Photo
The park offers several different types of campsites:

• Backcountry - for backpackers. Requires hiking several miles to a site located in the park's backcountry.

• Frontcountry - camping near your car in a developed campground that has restrooms with cold running water and flush toilets. Each individual campsite has a fire grate and picnic table.

• Group Campgrounds - large campsites suitable for groups of eight people or more. Located in frontcountry campgrounds.

• Horse Camps - Small campgrounds, accessible by vehicle, that offer hitch racks for horses and primitive camping facilities.

Campground facilities and the procedures for obtaining a site in each type are different. Click on the titles above for additional information about facilities, reservations, and operating seasons.
Quarantine Notice: The possession of firewood originating from a location for which a federal or state firewood quarantine is in effect is prohibited in Great Smoky Mountains National Park.
Click for additional information about this quarantine, including states affected.


Regulations Concerning Pets

Leashed pets are allowed in developed areas and along roads, but are not allowed on park trails. Read More

Download Park Maps

Maps of trails and campgrounds as well as general park maps are available. Read More

Hemlock Woolly Adelgids

Eastern hemlock trees are under attack from a non-native insect called the hemlock woolly adelgid. Read More
Did You Know?

The wispy, smoke-like fog that hangs over the Smoky Mountains comes from rain and evaporation from trees. On the high peaks of the Smokies, an average of 85 inches of rain falls each year, qualifying these upper elevation areas as temperate rain forests. More...