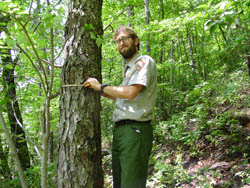 NPS
Resource Management and Science Staff in Great Smoky Mountains National Park:
Chief of Resource Management and Science: Jeff Troutman
Air Quality Program Manager: Jim Renfro-currently stationed at the park's Twin Creeks Science Center near Gatlinburg, Tennessee. He earned a Bachelor's and Master's degree in Forestry from Southern Illinois University at Carbondale. He started working for the Smokies in 1984, and is currently responsible for managing the park's air quality program; one of the most extensive air monitoring programs in the National Park Service.

Archeologist: vacant
Biologist/Inventory and Monitoring Coordinator: Tom Remaley

Biologist/Research Coordinator: Paul E. Super-M.S. in Ecology, University of California at Davis; areas of expertise include bird parasites and disease, bird ecology and behavior, salamander monitoring, and moth identification; working to bring more science to bear on understanding the park's resources.
Botanist: Janet Rock-interests in rare plant monitoring (particularly demographics), rare plant species surveys, rare plant/pollinator interactions (particularly endemic species), and genetics of rare plant species and their congeners. Janet has studied harvesting impacts of American ginseng and wild leeks, or ramps, and impacts of white-tailed deer on herbaceous vegetation.
Cultural Resources: Dianne Flaugh
Curator: John McDade
Data Manager: Vacant
Entomologist: Becky Nichols
Entomologist (USGS): Chuck Parker
Fire Ecologist: Rob Klein
Fire Management Officer: Dave Loveland
Fishery Biologist: Matt Kulp-B.S. Biology Penn State University 1992; M.S. Biology (fisheries) Tennessee Tech University 1994; GRSM fisheries biologist since 1994; Certified Fisheries Scientist, American Fisheries Society. Management and Research Interests: salmonid age and growth; brook trout distribution, inventory and monitoring; native fish restoration using electrofishing and piscicides (antimycin); threatened and endangered fish reintroduction and monitoring; and long-term water quality and fisheries monitoring on stream systems.
Forest Ecologist: vacant
Forester: Kristine Johnson-M.S. in Forestry, University of Tennessee; areas of expertise include forest health, exotic plant management, ecological restoration and revegetation.

Forester: Jesse Webster

Forester Biologist: Glenn Taylor
GIS/Mapping: Tom Colson

Wildlife Biologist: Bill Stiver

Appalachian Highlands Science Education Coordinator: Susan Sachs
For more information, contact Paul Super, 828-926-6251.
Return to researcher home page.
---

Information Coming Soon for the other parks in the Appalachian Highlands Monitoring Network
Blue Ridge Parkway
Big South Fork National River and Recreation Area
Obed Wild and Scenic River