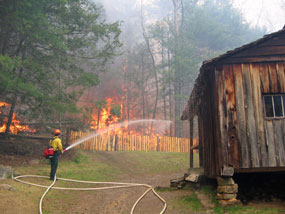 NPS photo.
All about fire and fire management:
Wildland Fire Management in the Southeast

The National Interagency Fire Center

Smokey the Bear's official website

Firewise, a program sponsored by the National Wildland/Urban Interface Fire Program

Southeast Region: Communicating the Role of Fire and Fuels Management in the Southeast

Fire Ecology in the Southeastern United States (opens pdf document)

Science tools from NASA: how to make your own sling psychrometer!

Kings Mountain National Military Park prescribed fire program
Does fire have a role in other ecosystems?
You bet. Read and listen to a story about fires in the Amazon on National Public Radio.
Tree rings and fire
The Ultimate Tree-Ring Web Pages - Dr. Henri Grissino-Mayer's website, with links to everything tree-ring
Other topics in this issue
To find more information about volunteering opportunities or internships in fire or forestry, visit these links:
Volunteers in Parks (VIP) program
Serve
Student Conservation Association: high school conservation crews and college/post-college internships
Return to Dispatches from the Field: Issue 8.