Meet the Managers: Air Quality Monitoring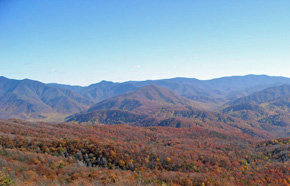 NPS photo.
There are seven main programs in Resource Management and Science: (1) Air Quality, (2) Cultural Resources, (3) Fire, (4) Fisheries, (5) Inventory and Monitoring, (6) Vegetation, and (7) Wildlife.
In this issue, meet the people and projects in Air Quality Monitoring. When you gaze off of a summit at Great Smoky Mountains National Park, what do you see? On a clear day, you may see rolling hills unfurled like blue and purple ribbons reaching all the way to the horizon. Or, on the same cloudless day, you may see a whitish haze that blurs far away mountains. Air pollution—the source of haze—not only obscures views, but can cause public health problems and makes the Smokies' streams and soil acidic, as well. We need a long-term air quality program to understand what causes pollution, what pollution does to ecosystems (and visitors), and what we can do to reduce it.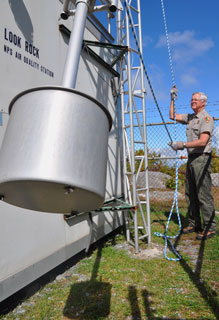 NPS photo.
What is air quality monitoring? All around the park, from mountaintop to valley, are air quality monitoring stations that take continuous readings of air temperature, humidity, visibility, ozone, and acid rain. With the help of water quality monitoring research that measures high elevation sulfate and nitrogen deposition, air quality monitors can describe the current air conditions and long-term trends in air quality. This is invaluable information for managers, scientists, and local, state, and federal governments that use the data to regulate air pollution.
Who monitors the park's air quality? Atmospheric scientists, meteorologists, climatologists, ecologists, biologists, and engineers monitor the amount of pollution in the air (and soil and water), as well as the impact of pollution on living systems in the park, including plant leaves, soil organisms, and stream life. To read more about air quality monitoring in the park, go to the NPS Profile: Air above & beyond the Smokies.
What does it take to do long-term, park-wide air quality monitoring? Click each title for a brief description.
Return to Dispatches from the Field: Issue 5 main page.