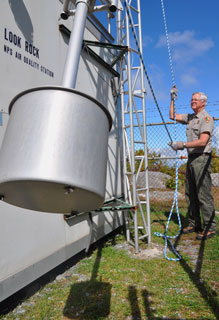 NPS photo.
What is air quality monitoring? All around the park, from mountaintop to valley, are air quality monitoring stations that take continuous readings of air temperature, humidity, visibility, ozone, and acid rain. With the help of water quality monitoring research that measures high elevation sulfate and nitrogen deposition, air quality monitors can describe the current air conditions and long-term trends in air quality. This is invaluable information for managers, scientists, and local, state, and federal governments that use the data to regulate air pollution.
Who monitors the park's air quality? Atmospheric scientists, meteorologists, climatologists, ecologists, biologists, and engineers monitor the amount of pollution in the air (and soil and water), as well as the impact of pollution on living systems in the park, including plant leaves, soil organisms, and stream life. To read more about air quality monitoring in the park, go to the NPS Profile: Air above & beyond the Smokies.
What does it take to do long-term, park-wide air quality monitoring? Click each title for a brief description.
Return to Dispatches from the Field: Issue 5 main page.