Meet the Managers: Issue 1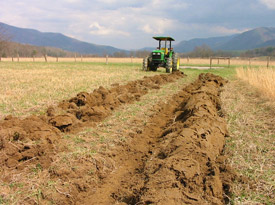 NPS photo.
This month, meet the people and projects in Vegetation Management. When you come to Great Smoky Mountains National Park, you see spruce and fir on the highest ridges, oaks, maples, and rhododendron on the long slopes, and around your feet, ferns, mosses, and flowers. Clearly, it takes a lot of effort—and a lot of people—to make sure all of these ecosystems are healthy.
What is vegetation management? With the help of scientists in the Park's Inventory & Monitoring program, vegetation managers monitor forests, grassy balds, meadows, and wetlands over time. They work to eliminate or control invasive species, restore landscapes altered by agriculture, and re-vegetate disturbed areas with native plant species.
Who manages the park's vegetation? Vegetation managers include foresters, biologists, and horticulturalists.
What projects are Vegetation Managers working on now? Click each title for a brief description.
Exotic Invasive Plant Species Control

Pest & Disease Monitoring and Management
Return to main Dispatches from the Field: Issue 1 page.