NPS Profile: Restoring Native Grassland Communities in Cades Cove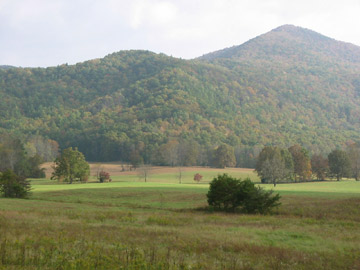 NPS photo.
One landscape that's seen a lot of changes is Cades Cove. The Cherokee used the Cove as a hunting ground, but after they were forced off of their lands in the early 1800s, the first settlers of European descent established themselves as small subsistence farmers. The Cove became a patchwork of crops such as corn, beans, squash, tomatoes, and wheat. The farmers also ditched and drained wetlands to create their fields, changing the ecosystem. The Park Service gradually acquired these farms from the landowners starting in the 1920s. By the 1950s, to maintain the cultural landscape of mixed farm fields, Park managers leased portions for cattle grazing and hay production, and planted a hardy European grass called fescue.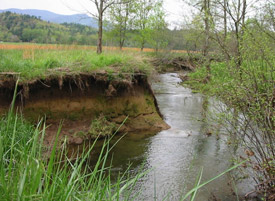 NPS photo.
The fields of fescue characterized Cades Cove for many visitors: the green carpet rolled over hills and resembled a huge lawn or urban park. But there were two problems: it did not preserve a cultural farm landscape, which was the original goal and it was a monocrop (single species crop) introduced into the park that did not provide varied habitats or food sources for turkey, coyote, fox, rabbit, deer, bear, ground nesting birds such as quail that the Cove had previously supported. In the late 1990s the cattle and hay leases expired, allowing park managers to experiment with planting native grass seeds and restoring wetlands. By doing so, they would also build a native seed bank that would allow managers to replant sections of disturbed land along the Foothills Parkway and in other areas of construction.
To begin the restoration, vegetation managers including Kristine Johnson and Steven Shaper planned a new "farmed" landscape of native, warm-season forbs and grasses. Since 2002 Steven Shaper has been in the field heading up this multi-year project to harvest seeds from remaining small bunches of native plants, grow them in seed production fields, and use that seed to plant mixed batches to ensure a mixed-grass habitat. The production is much like farming, only what they harvest are different grasses and forbs instead of crops to sell.
Each morning, vegetation managers meet in the pre-dawn at the Vegetation building near the Sugarlands Visitor Center to prioritize projects for that day and divide the work among team members. On the days that managers go to Cades Cove, Steven heads out with a crew of seasonal employees, often college or graduate students interested in vegetation management. They drive to Hyatt Lane or to the fields of Indian Grass that wag their seed-laden heads near the Cades Cove Visitor Center. What the crew does when they arrive varies by the season. The months in the seasons listed below can overlap, because managers plant and harvest according to temperature and precipitation rather than the calendar.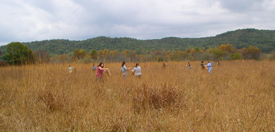 NPS photo.
Fall
Seed Harvesting. The very first harvests of native seeds were in small patches of remaining native grasses. Now, Steven and his crew use a tractor and brush to skim delicate seeds off of Indian Grass (Sorghastrum nutans), move in pairs along rows of native bush clover (genus Lespedeza—there are native and non-native species of this in the park), and walk nearby to planted rows of wild quinine (Parthenium integrifolium). They also harvest little blue stem (Schizachyrium scoparium) and gamma grass (Tripsacum dactyloides).
Frequently, volunteers--such as those pictured above from Gatlinburg's Pi Beta Phi middle school--help to harvest seeds by hand. Students can help vegetation managers in this and other efforts in Parks As Classrooms Service Learning Projects.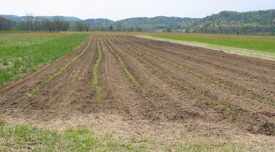 NPS photo.
What are the results of all this work? In Cades Cove, just west of Hyatt Lane, 15 planted acres of increase fields (seed production areas) wave with seed-heavy heads in the fall breeze. Last spring managers planted 13,462 live plants of six different species of forbs and grasses. In the fall, they planted a plot of Virginia wild rye, a native "cool season" annual grass that will produce seeds to re-vegetate the Foothills Parkway and other park landscapes. Seed harvests in 2007 yielded 350 pounds of bulk seed, which was lower than in past years due to severe drought. The 2008 harvest was much bigger--1,400 pounds--because of frequent rains in the spring and summer. Cherie and Steven are already planting some of these seeds in the park's greenhouse, where they will sprout and wait for warmer months. Since 2004, the efforts of these vegetation managers have added 14 acres of mixed native-species meadow habitat to Cades Cove.
Exotic plant management also continues, with success in controlling lespedeza, multiflora rose, honeysuckle and privet in the meadows. Some landscapes will still be mowed so visitors will see the rolling fields to which they have grown accustomed. Other landscapes are burnt, plowed, and harvested in the gradual process to restore most of the Cove to native meadow habitat.
Return to Dispatches from the Field: Issue 1 main page.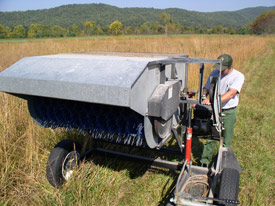 NPS photo.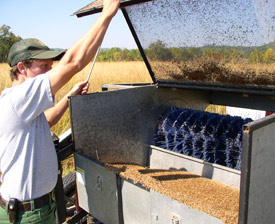 NPS photo.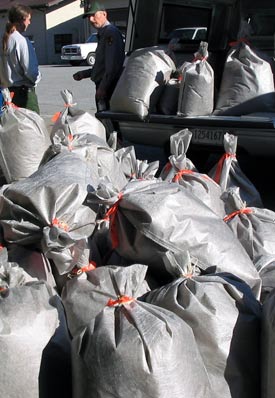 NPS photo.
Winter
Seed drying and cleaning, plug propagation, and controlled burning. When Steven and his crew come in from the fields with their huge cloth sacks stuffed full of seed, they store it in piles to air dry. These piles of downy fluff can be as big as five feet across and three feet high.
Cherie Cordell, the greenhouse coordinator, plants portions of this seed in greenhouses near the Twin Creeks Science and Education Center to produce seed plugs for Cades Cove. She mixes the rest of the seed in a mixture that they'll use for a process called no-till seed drilling, where seeds are "injected" into the fields. Seedlings destined for many restoration projects, including wetland restoration and native seed stock, spend their first few months here.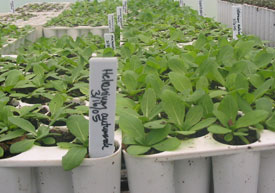 NPS photo.
Late winter, when ground-nesting birds have left their nests, is also time for prescribed burns and mowing. Friends of the Great Smoky Mountains National Park and the Smoky Mountains Association have provided extra funds for mowing each year. Vegetation managers also began "rotational burning," which means burning each field every three years in a cycle, in 2003. The regular fires scorch the invasive species and return them to the earth as nutrients, and regenerate the native grasses that evolved with lightning- and human-set fires.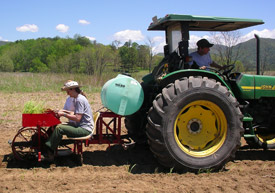 NPS photo.
Spring
Sowing seed. When the winds are warm and the soil begins to thaw, it's time to plant the seedlings (called plugs) that Cherie, Steven and their crew have tended in the greenhouse. They head out to Cades Cove with a special planting machine: a tractor-drawn mechanical transplanter. The transplanter cuts a furrow in the soil as it moves, drops the seedling plugs into the cut earth from a rotating wheel, then gently closes the furrow as it passes over. For now, Steven says, they plant the grasses in rows so they can easily harvest the seeds and monitor how much they have planted over time. They cultivate and harvest about fifteen acres of native grasses per year. After years of this grass "farming," they are able to mix the grass seed and replant between two and five acres of the Cove each spring with a medley of native grass species. Their goal of providing mixed, self-regenerating habitat for insects, birds, and animals is well under way.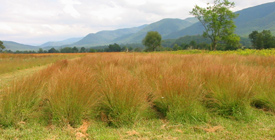 NPS photo.
Summer
Exotic plant, insect, and animal control. There is a lot of work to be done to control invasive plants and to stop rooting hogs and savagely biting fire ants. In the summer, while the blades soak up sun in the long days, Steven and his crew eradicate fescue, privet, multiflora rose, non-native species of Lespedeza, and many other plants. They also keep an eye out for signs of introduced hogs, which root out native plants, and for the huge fire ant mounts whose occupants pose a safety risk to people and ground nesting animals.