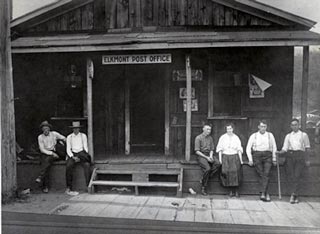 NPS Photo Archives
The typical store was a wooden structure with one main room and a stock room. The store's owner had to maximize creativity in displaying his wares, using every available space. Merchandise was displayed on shelves along the wall, stacked on the counter, stored in barrels and boxes on the floor, and even hung on hooks from the ceiling.
Because it might take two to five days to travel to and from the nearest town, the local store made it convenient for farmers to exchange their goods and not miss precious time away from the farm.
The folk of the Cades Cove community in the western end of the Smokies were well served when in 1873 Leason Gregg opened its first general store, located near a grist mill. He bought the farmers' produce and traveled weekly to Knoxville to trade, 40 miles away, returning with merchandise to sell. One autumn, cove resident John McCaulley took his daughters to collect chestnuts. They gathered seven bushels of chestnuts--enough to purchase shoes for his six kids.
The proximity of the store to the mill allowed people to shop while they waited on their corn to be ground, and it made a good place to catch up on the latest community news and gossip.
While money did change hands in the store, barter was a common practice. Will Messer's store in Little Cataloochee accepted eggs and honey in exchange for coffee, sugar, salt, and other "store-bought" supplies. In 1900, a dozen eggs (worth 16 cents) could be traded for a pound of coffee. Messer also extended credit in his store, often carrying a neighbor's account for up to twelve months. In the Sugarlands community, children earned cash by gathering nuts and berries and taking them to James Bohanon's store in nearby Fighting Creek.
But the days of a barter economy were waning. Farmers were rapidly becoming consumers, not just producers. With cash in their pockets from selling crops, people began to yearn for more of life's luxuries.