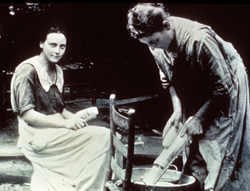 NPS Photo
A death in the community was another reason for neighbors to help one another. When a member of the church passed away, the church bell would ring to get the people's attention. After a pause, the bell would be rung for each year of the dead person's life. Community members usually knew who was sick and the approximate age of the people in the church, which made it easy to identify who had passed away. The men would then dig a grave or make a coffin if one was not already made. The women would prepare the body and the coffin for burial. The men and women of the community would also help take care of the needs for the family of the deceased, such as by cooking meals, gathering crops, and caring for the young children.

When the states of Tennessee and North Carolina begin to purchase land for the creation of the national park, the first large piece of land purchased in 1927 included most of the land in the mountains north of Cades Cove. A few families welcomed the state's effort to buy land for the park; they willingly sold their land and moved out of the Cove. However, some families did resist the effort. One resident, John W. Oliver went to court several times before he finally lost.

Some residents signed life-leases that allowed them to live on their land for the rest of their life. People who agreed to a life lease were given less money for their land and were required to live by the rules set by the National Park Service, such as restrictions on hunting, trapping and timber cutting. As residents left the cove and the community dispersed, there was no longer a need for facilities and services. The last school in Cades Cove closed in 1944 and the post office closed in 1947.