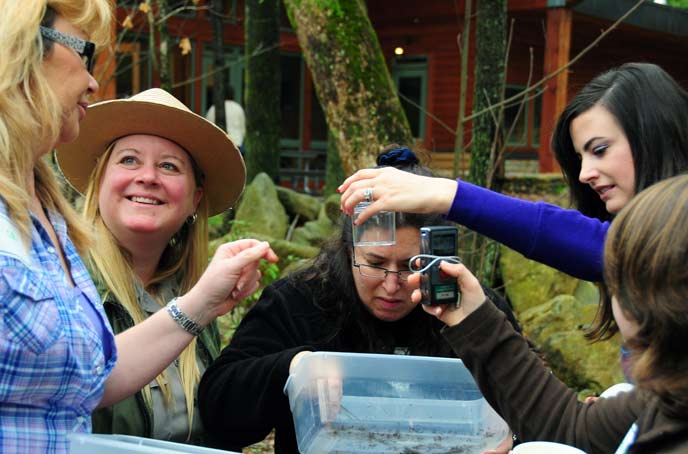 Most workshops are offered free of charge or at a reduced rate. See below for details on upcoming workshops.
Upcoming Workshops
Spring in the Smokies
Friday, May 1 - Sunday, May 3, 2015
Spend the weekend exploring spring at the Appalachian Highlands Science Learning Center, home to glorious views and high elevation spring wildflowers and salamanders. We will participate in several citizen science studies designed to monitor the impacts of air pollution to park resources. These studies can be replicated back in your schoolyard or other nearby natural area. Sign up for this workshop through the NC Museum of Natural Science. The cost is $75 but it includes lodging at Lake Junaluska and several meals for the weekend.
Great Smoky Mountains Science Teacher Institute
Monday, June 15 - Friday, June 19, 2015
Spend the week immersed in the beauty of the Smokies as you learn how to incorporate environmental monitoring studies on issues such as air quality and climate change into your classroom teaching. You will gain new approaches and tools for improving science teaching and learning that will transform your classroom. Reduced cost of $150 includes meals and lodging ($350 value). Register through the Great Smoky Mountains Institute at Tremont.

Ground Level Ozone: Advanced Air Quality
Monday, August 3 - Tuesday, August 4, 2015
Spend two days in the high elevations of the Smokies learning about air pollution impacts on park resources in ways that you can replicate in your classroom. You will receive classroom activities as well as learn how you can track ozone sensitive plants in your schoolyard. While in the park, we will collect data in field on salamanders and snails up at Clingmans Dome (weather permitting) and ground level ozone impacts at the Appalachian Highlands Science Learning Center. Camping is available at the center. There is no fee for this workshop and lunch each day is provided. To register, contact Keith Bamberger at the North Carolina Division of Air Quality, e-mail us, (828) 296-4500.
Education Facilities
The Great Smoky Mountains Institute at Tremont is a residential environmental learning center located in Great Smoky Mountains National Park. Tremont offers workshops and programs for everyone, from teachers to grade school children to Elderhostel groups. Several special programs for teachers are offered including Teacher Escape Weekends, a Southern Appalachian Naturalist Certification series, and Science Teacher Institutes, to help you improve your teaching skills while enjoying the beauty of the park. For more information, call (865) 448-6709 or visit the Tremont website.

Tremont also offers the Southern Appalachian Naturalist Certification Program (SANCP) in partnership with the University of Tennessee. Complete eight courses to earn a certificate in natural history and interpretative skills.
The Smoky Mountain Field School offers high-quality workshops, hikes, and adventures for people who want to enhance their enjoyment, appreciation, and understanding of the Smokies and the great outdoors. For more information and a schedule of programs, call (865) 974-0150.

Dispatches from the Field

Go behind the scenes with scientists in the Great Smoky Mountains. Read More

Inquiry Science - Online databases available

For salamander, soil and water quality and ozone studies Read More

Appalachian Highlands Science Learning Center

Promoting research and science education Read More