Horse and Pack Animal Use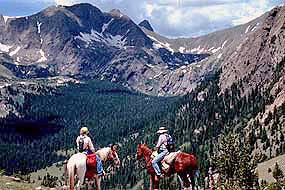 NPS/Patrick Myers
Exploring Great Sand Dunes National Park and Preserve on horseback or with pack animals can be fun and rewarding, but requires some preparation on your part. We want you, your animals, and other visitors to have a great experience!
Where can we find guided horseback trips in the park?
As of 2014, Zapata Partners is the only licensed provider of horseback riding in the national park. Zapata Partners horseback rides are provided only to overnight guests at the historic Zapata Ranch.
Where can we ride our own horses?
Most of the national park and the entire national preserve are open to horse use. For closed areas, please refer to the Map of Areas Closed to Horse Use (.jpg file, 130 KB). The following areas are closed to horseback riding:
- Pinyon Flats campground
- Visitor Center parking lot, area, or Sand Sheet Loop Trail
- Mosca Creek picnic area, near Dunes Parking Lot (Note: riders may access the southern and western portions of the dunefield through a permitted corridor than runs between the Visitor Center and picnic area. Please see map for location of this corridor.)
- Dunes Parking Lot and the area directly west of the Dunes Parking Lot, as far as the High Dune. This area is for pedestrians only.
- Wellington Ditch Trail
- Montville Nature Trail, except for the southern section required to access the Mosca Pass Trail. Please lead your horses on this section of the nature trail.
- any paved roads, except when crossing
- the Sand Ramp Trail between the campground and Point of No Return. Use Medano Primitive Road instead.
Where can we leave our trailer?
In the national park - Horse trailer parking area at the beginning of the Medano Pass Primitive Road. If full or unavailable, please use the nearby amphitheater parking lot. Horse trailers may not be parked elsewhere within national park boundaries.
North access to national park backcountry - There is horse trailer/vehicle parking the "Liberty Gate", just south of the northern edge of the national park. Hikers, horses and pack animals may use this trailhead to access the National Park and National Forest lands in this area. Wagons or other horse drawn equipment are not permitted to enter the park. For overnight use, please self-register at the Liberty Gate for a free backcountry permit. Please call the Visitor Center at 719-378-6399 for more information. A map of road access to the Liberty Gate is available.
National Preserve - If you are accessing Great Sand Dunes National Preserve from the east side of the Sangre de Cristos, you may leave your trailers at trailhead parking areas in the Rio Grande National Forest, including Mosca Pass, the Rainbow Trail parking area, and the Music Pass parking area.
Where can we camp with our horses?
All horse camping areas are in the backcountry, away from roads. Camping with your horses is not permitted in the frontcountry area of the park, including the horse trailer parking area and Pinyon Flats Campground. When accessing the backcountry through the main national park entrance on Highway 150, a free backcountry camping permit is required from the Visitor Center. Camp with horses at:
- Little Medano, Aspen, Cold Creek, and Sand Creek backcountry camps.
- Wilderness and backcountry portions of the national park except for those areas closed to horses (see map of closed areas on back). Except for designated backcountry sites, camps must be at least 1/4 mile from roads or trails in the national park backcountry.
- Anywhere in the national preserve, as long as you follow the minimum impact guidelines below. In designated sites along the Medano Pass Primitive Road, horses must be picketed 100 feet from tent areas.
What animals are considered pack animals?
Horses, mules, burros, donkeys or asses, and llamas may be used in the national park and preserve as pack animals.
Please follow these minimum impact guidelines for horse day use and overnight pack trips:
Always try to minimize the impact you and your animals have on the landscape, vegetation, and water.
-To limit the spread of non-native weeds, horses must be fed weed-free hay for 24 hours before entering the national park or national preserve. All feed and hay you take with you must be certified weed-free. A list of Colorado weed-free hay providers is available online.

- Dogs are not permitted in the national park backcountry, and must be on a leash at all times in the national preserve.
- Free-trailing your horses is not
permitted.
- Hikers should yield the trail to horseback riders. Please slow your horses to a walk when passing hikers.
- If you ride cross-country, please spread out to minimize impact on vegetation and soils.
- No camping within 300 feet of lakes and 100 feet of streams.
- In the national park, groups may include no more than 6 people and up to 6 horses. In the national preserve, groups may include up to 15 people and additional horses to equal a total of 25 (people and horses counted together).
- Picket your horses at least 100 feet from the brown post in the campsites, at least 100' from water, and in a way that prevents them from damaging trees or pawing around tree trunks.
- Scatter manure away from campsites to prevent flies from gathering and speed decay.
- Please shovel accumulated manure from parking areas into your trailer before your ride, and after you load your horses back into your trailer.
- Wood fires are not permitted in the Great Sand Dunes National Park backcountry, except for Sawmill Canyon and Sand Creek campsites. Gas stoves are permitted. Wood fires are permitted in established fire rings in Great Sand Dunes National Preserve. Burn dead and down wood less than 4" in diameter only.
- When picketing your horses, select a dry spot at least 100' from the camping area. If camping for more than one night, move your picketing area every night to disperse the impacts on vegetation and soils.
- Pack out all trash and toilet paper.
- Bury human waste at least 6" deep, and at least 100' from water. In the open dunefield only, human waste should be buried 1" deep.

Safety Tip
Steep dune faces are loose and potentially dangerous for horses.
I have other specific horse and pack animal use questions. What number should I call or who should I email?
Please call the Acting Chief Ranger at 719-378-6323 or send an email.
Enjoy your trip!