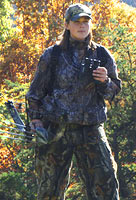 While hunting is not permitted in Great Sand Dunes National Park, licensed hunters may hunt in Great Sand Dunes National Preserve during designated legal seasons. All hunters must register with the National Park Service.
Click "View Park Map" from any page on this website to view a map showing park and preserve boundaries.

Hunters may access Great Sand Dunes National Preserve via:
Medano Pass Primitive Road (from the west or east)
Music Pass Trailhead (from the east on CR119)
Mosca Pass (from the east on CR 583 only; hunting access is not permitted from the Montville/Mosca Pass Trailhead on the west side of the range)
Liberty Trailhead (northern backcountry access to Rio Grande National Forest and Great Sand Dunes National Preserve)
Sand Ramp Trail (About 1/2 mile North of Point of No Return)
National Park Game Transport and Hunter Access Location Maps

Registration for Hunting in Great Sand Dunes National Preserve
Registration is required for hunters hunting in the national preserve. This can be done by calling the Visitor Center at 719-378-6395, or by stopping at the Visitor Center between 9-4. You'll need to have your driver's license number, license plate number, and hunt code (from your tag) available. Please see the Great Sand Dunes Compendium of Regulations for details.


Due to overgrazing, there is a limit on pack animals permitted in the Cold Creek drainage. No more than two hunting parties with a combined maximum of six (6) head of livestock may establish campsites and maintain their livestock within the watershed drainage of Cold Creek at any one time during hunting season. Any one hunting party is limited to four (4) head of livestock. Each hunting party with livestock must have a permit to camp and/or hunt in the Cold Creek drainage. Please call ahead to check if your animals are within the limit, and to reserve pack animal use in Cold Creek; dial 719-378-6395 and ask to speak with a law enforcement ranger.


Registration is not required just to carry firearms through the national park. (See details on firearms regulations).

Please see the Frequently Asked Questions about hunting at Great Sand Dunes. If you have specific questions about hunting, please email the Chief Ranger or call the Visitor Center at 719-378-6395.