CLICK HERE TO make Campground reservations March 12- October 22. (You will be able to make reservations three months ahead of time)

Starting in 2015, Visitors can now pay by credit card for campground stays year round through the reservation company.
No need to carry cash or checks if you reserve a campsite beforehand.
The campground is open year round. We recommend highly to use the reservation company.

The campground fee is $16.00 per night.

There is a 50% discount ($8.00) for Golden Age ,Golden Access, America the Beautiful Senior Pass and America the Beautiful Access card holders.
Click here for more information on the passes
The campground offers 174 campground sites with hot showers and bathroom facilities. Park rangers and campground hosts are available.
There are no electrical or water hookups available.
There are hot showers, bathroom facilities and a dump station available to registered campers.
We recommend that you bring in store bought firewood. Please do not bring in non-store bought firewood because of the Emerald Ash borer threat.

Click here to see pictures of the campground.

There is a three tent, six person and two vehicle maximum per site.
If you need to occupy two sites because of the length of your RV and towed vehicle, you will need to pay for two sites.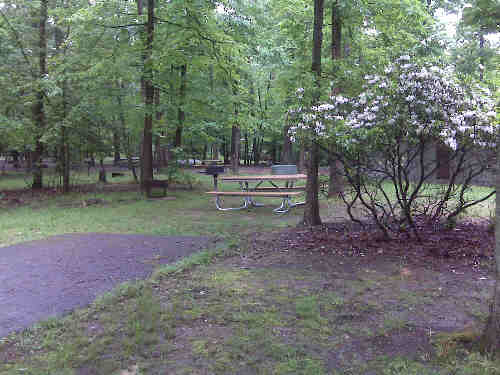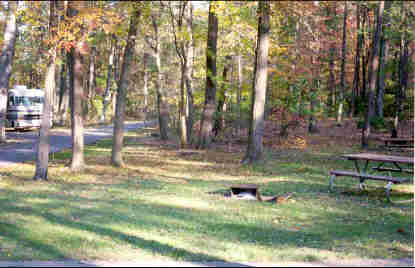 Greenbelt Park Campground Rules and Regulations
The mission of Greenbelt Park is to provide overnight camping facilities to meet the needs of individuals, families and groups visiting the nation's capital by providing a program of day use reservation, picnicking, and interpretation, and to preserve the area's natural and cultural resources.

The proximity of the park to the nation's capital brings numerous visitors to the campground and the rest of the park.

Camping fee is $16.00 per night per site.

Fee is $8.00 for Golden Age, Golden Access, and the America the Beautiful Senior pass card holders.

Please use the reservation system.

Camping allowed in designated areas only.

Alcoholic beverages are prohibited.

A maximum of 3 tents, 2 vehicles, and 6 people are permitted per site.

It is prohibited to attach anything to trees, shrubs, or other plants. This includes clotheslines, hanging lanterns, or other items. Driving nails, axes or knifes into vegetation is prohibited.

Gathering of wood including dead wood on the ground and/or plant products is prohibited.
We recommend that you bring in store bought firewood. Please do not bring in non-store bought firewood because of the Emerald Ash borer threat.

Check Out time is 12 NOON.

Use provided grills for fires. Clear the area surrounding the grill of any debris and always completely extinguish fires before leaving.

The Campfire Circle in Loop B is for use by permit only issued by park management.

Quiet hours are from 10:00 p.m. until 6:00 a.m. No generators or loud noise during this time. Wheels of all vehicles must remain on the pavement. This includes motorcycles, tent trailers, and RV's.

Pets must be leashed at all times. Please clean up after your dog.

Campsites must be kept clean and neat. Please dispose of any trash in the dumpsters.

Please apply the Leave NO Trace principles to camping.

Camping is limited to 14 days per year.

Service sinks (utility) are located at each comfort station for dish washing. Do not use service sinks for bathing. Water spigots are provided throughout the campground. Bathing, washing or attaching hoses of any kind are not allowed at the spigots.

RV's may use the water at the dump station to fill self-contained tanks. Campers must provide container for any waste fluids. Waste fluids may be disposed at the dump station located in Loop C.

Digging and disturbing any natural or cultural feature is prohibited. This includes rocks, leaves, vegetation, wildflowers, animals etc.

Please help us maintain these valuable resources for generations to come.

Speed Limit is 15 MPH. Please observe all traffic regulations. Watch for children, bicyclists, pedestrians, and wildlife.

Bicycles are allowed on paved roads only. Bicycles are prohibited on the trails