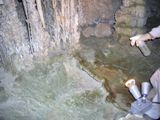 NPS PHOTO
Even with LED lights, algae continues to grow. LED light emit enough heat which allows algae to grow, although at a slower rate. LED lights are still the right wavelength which allows these growths to continue. To control its growth, several methods can be adopted, including physical, chemical, and biological means. At this time, there is no ideal solution to this problem.
At Great Basin National Park and Lehman Caves, an active study is being completed within the cave system to determine which type of bulb, wattage, and wavelength of light best reduces algae growth , while still allowing for public enjoyment of this world class cave system. The current LED system has helped reduce the algae growth, but the problem still persists.
Until a more ideal lighting system is found, crews must regularly enter the cave to clean and remove the algae growths. Using nothing more than a spray bottle filled with a very diluted bleach solution, cave managers and volunteers meticulously wipe up these unnatural growths before they permanently damage the cave system.