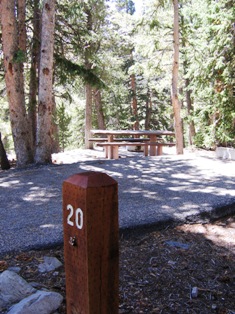 NPS PHOTO
Hosts assist park staff with campground operations and provide a variety of information to visitors including: campground regulations, safety information, backcountry camping, hiking, fishing, National Park and concession facilities, interpretive programs, road conditions, park natural resources and other points of interest.
Campground Host Duties
Hosts are often thought of as the "eyes and ears" of the park and are crucial in assisting the Park Service staff. They provide supervisors and rangers with information regarding facilities, visitor use, wildlife sightings, and safety concerns, but
do not
take direct action involving law enforcement situations. Hosts may provide for the upkeep of campgrounds, assist with the selection of campsites, and camp registration and fee payment. They do not accept or handle fee transactions. The wearing of a VIP uniform identifies campground hosts, which you will be provided upon arrival and background check will be preformed.
If interested in joining our team, please review the following information: