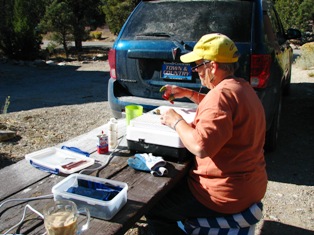 NPS Photo
Great Basin National Park has created the Darwin Lambert Artist-Writer in Residence Program in honor of the late Darwin Lambert. As a proponent for the creation of Great Basin National Park and other parks, Lambert authored Great Basin Drama and other literary pieces.
This program offers artists and writers the opportunity to live and work in Great Basin National Park. The park will offer a two to four week residency.
Basic housing is provided, but no other stipend is offered. As part of the program artists and writers will be required to do one public program in which the artist-writer will speak about their work and their medium in relation to the park and its natural and cultural resources. Artists and writers must also donate one original piece of their work to the park's permanent museum collection..
The deadline for submission is March 1, 2015.
To be considered for the Darwin Lambert Artist/Writer in Residence, please do the following: Write a short personal statement explaining why you are interested in Great Basin National Park and its Artist-in-Residence Program and what you hope to achieve by your residency. Our residency, in years past, has begun anywhere from mid-September to October 1 and runs for two to four weeks.
In your letter/statement please explain your medium and how you intend to use it to depict Great Basin National Park's resources. Please send all examples of your work on a CD or DVD disc. Visual Artists: Please send five (5) but no more than ten (10) examples of your work on a CD or DVD disc in a jpeg format. Authors/Poets: Please send no more than five examples. Each example should be no longer than four (4) pages. Excerpts from longer pieces, with a general explanation of the original piece, will be accepted. Music/Theater: Please send no more than three (3) examples, each no longer than fifteen (15) minutes in duration. Your disc will not be returned.
Original artwork, photography, and any medium in its original, physical form will not be accepted. All submissions must be postmarked on or before March 1, 2015. Selection for the 2015 Artist in Residence will be made during the month of April.
In addition, please send a brief resume explaining your background and experience. Along with is resume, please list three references. These references should be persons you have worked with, who know you, your work habits and creative work.
To view the program guidelines and information for the program, click here. If you require additional information interested artists and writers should contact Aileen Lubold. Contact by phone at (775) 234-7514, or by email.
Donations for the Darwin Lambert Artist-Writer In Residence Program may be sent to:

Artist in Residence
Great Basin National Park
100 Great Basin National Park
Baker, NV 89311