GPS Units

Visitors relying on GPS Units, in order to direct them to our site, need to be cautious once they turn off State Highway 83. Several different GPS systems have misdirected visitors headed to our site. Road signs are more reliable as you approach the site. More »
Plan Your Visit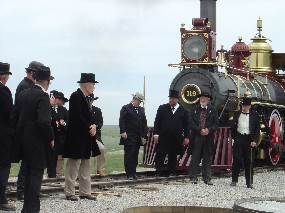 NPS Photo
The Driving of the Last Spike is reenacted during the summer season. To allow visitors to relive this celebration, volunteers portray the dignitaries who were at the ceremony on May 10th, 1869.
Reenactments are held Saturdays and holidays, starting the first of May through Columbus Day, at 11:00 a.m. and following the 1:00 p.m. Steam Demonstration.


Did You Know?

You can drive on the original Transcontinental Railroad grade on the two driving tours within the park.