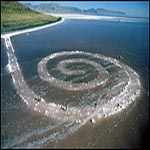 NPS photo
The Spiral Jetty
is Robert Smithson's monumental earthwork (1970) is located on the Great Salt Lake in Utah. Using black basalt rocks and earth from the site, the artist created a coil 1,500 feet long and 15 feet wide that stretches out counter-clockwise into the translucent red water.
Spiral Jetty
was acquired by Dia Art Foundation as a gift from the Estate of the artist in 1999.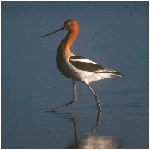 Bear River Migratory Bird Refuge
is about 30 miles east of Promontory in northern Utah, where the Bear River flows into the northeast arm of the Great Salt Lake. The Refuge protects the marshes found at the mouth of the Bear River; these marshes are the largest freshwater component of the Great Salt Lake ecosystem. Since these marshes are in turn surrounded by arid desert lands, it is little wonder that they have always been an oasis for waterfowl.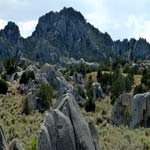 Charles Ryan August 2011
Located on Bureau of Land Management and state land, Devils Playground is a relatively unknown geologic curiosity found in a remote region of northwestern Utah. This site provides camping and recreation opportunities for those who enjoy getting away from it all. Devil's Playground is about 113 miles from Golden Spike National Historic Site.