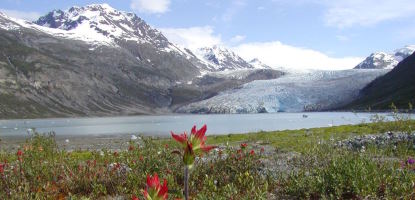 What happens when nature wipes the slate clean and starts over from scratch?
Today's visitors can see the answer to that question during the course of one trip into the bay to the tidewater glaciers. Such a journey is like going back to the last ice age. The land near the mouth of the bay, long-ago released from the grip of glaciers, has had the most time to recover and is now blanketed by mature spruce and hemlock forests. As you travel toward the glaciers the vegetation gets younger and smaller, until you reach the face of the ice where nothing grows at all. The successional processes so evident here offered unparalleled opportunity for scientific observation and glaciologists, geologists, plant ecologists and other scientists came here to study this dynamic landscape. While recounting his scientific work in Glacier Bay, a plant ecologist named William Cooper so inspired his colleagues at the Ecological Society of America that they started the movement to protect the bay and its environs.
In 1925, President Calvin Coolidge declared Glacier Bay a national monument. Today Glacier Bay National Park and Preserve continues to protect these natural resources which offer a glimpse into ice ages past in the midst of a flourishing and dynamic natural environment.