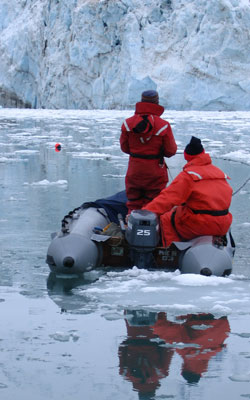 Where do Glacier Bay harbor seals go during winter?
A recent research study in Glacier Bay has been investigating where harbor seals from Glacier Bay spend the winter. Although evidence suggests that substantially fewer seals occur in Glacier Bay in late-summer and autumn, prior to this study it was unknown if seals moved beyond the boundaries of Glacier Bay, the regions that they traveled to, and the potential threats that they may encounter.
Juvenile and adult female harbor seals (n = 37) were captured in Johns Hopkins Inlet in the upper West Arm in Glacier Bay in September of 2007 and 2008. After seals were captured, small satellite-linked transmitters were glued to the fur on their heads. The satellite-linked transmitters transmitted data to Argos satellites and the data were later downloaded and processed to determine where the harbor seals traveled during winter. The transmitters were shed by the seals the following summer during molting.