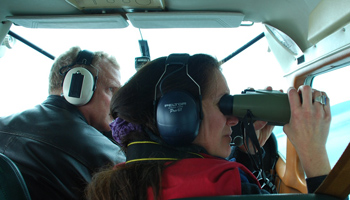 How do we count seals?
Harbor seal aerial surveys occur throughout Glacier Bay National Park at terrestrial and glacial ice haulout sites. Click for a
Much of the aerial survey effort occurs in Johns Hopkins Inlet, an expansive tidewater glacial fjord in the upper West Arm of Glacier Bay that hosts the largest aggregation of seals in Glacier Bay and represents one of the primary pupping sites for harbor seals in Alaska. The aerial survey method, which was developed by the National Marine Mammal Laboratory-Polar Ecosystems Program (NOAA), involves conducting systematic transects and collecting digital images of seals using a high-resolution digital camera that is vertically mounted inside the plane's camera porthole. For each survey, approximately 1,250 non-overlapping digital images are collected. The images are then processed by digitizing and counting seals in each image.

The digital imagery provides a permanent record of seal distribution and can be used for estimating seal abundance, density, and population status. The digital imagery also captures important information on ice conditions in Johns Hopkins Inlet. Future studies will include examining the relationship between the availability of glacial ice and harbor seal spatial distribution and abundance using remote-sensing techniques in collaboration with scientists from the Geophysical Institute at the University of Alaska Fairbanks and the National Marine Mammal Laboratory-Polar Ecosystems Program.