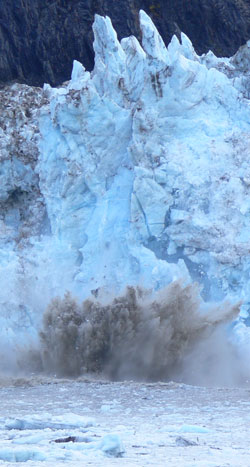 Background and Rationale
Tidewater glaciers are a prominent landscape feature along the southeastern and south-central coasts of Alaska and play an important role in landscape and ecosystem processes. Many tidewater glaciers calve large icebergs into the sea which then serve as important resting and pupping spots for harbor seals, a species of concern in Alaska. Although tidewater glaciers are naturally dynamic, advancing and retreating in response to local climatic and tidal cycles, most of the ice sheets that feed tidewater glaciers in Alaska are thinning and, as a result, many of the tidewater glaciers are retreating. Climate change models predict continual and rapid loss of glacial ice with unknown impacts on organisms that rely on tidewater glaciers and tidewater glacial habitat.
Evidence suggests that the role of ice availability could be a factor associated with declines and/or shifts in the distribution of harbor seals in Glacier Bay. For example, between 1973 and 1986, the Muir Glacier in the upper East Arm of Glacier Bay experienced a catastrophic retreat and by 1993 the glacier was completely grounded. In the 1970's, prior to the grounding of Muir Glacier, in excess of 1,300 seals were counted in upper Muir Inlet in the East Arm (Streveler 1979). The dramatic retreat and subsequent grounding of the Muir Glacier resulted in the cessation of calving and iceberg production by the Muir Glacier. Consequently, the icebergs which were used by harbor seals to rest and give birth upon, were no longer available to seals as a haulout substrate and eventually resulted in the abandonment of upper Muir Inlet by harbor seals (Mathews 1995). By 2008, no seals were pupping in Muir Inlet, and fewer than 200 seals were counted in McBride Inlet near the terminus of the McBride Glacier, the only remaining tidewater glacier in the East Arm of Glacier Bay (Womble et al. 2010).
Changes in tidewater glaciers in Alaska have the potential to impact harbor seals in and adjacent to several NPS units (Glacier Bay National Park, Kenai Fjords National Park, Wrangell St. Elias National Park) in Alaska where seals are highly dependent upon icebergs calved from tidewater glaciers. Understanding relationships between glacial ice availability and harbor seal distribution and abundance will provide novel perspectives on the spatial and temporal variation of harbor seals in tidewater glacial fjords in Alaska which host some of the largest aggregations of harbor seals in the world.