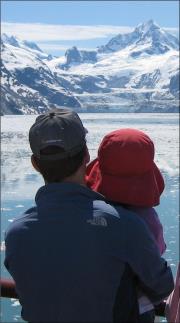 Here's What You Can Do:
Join the staff at Glacier Bay National Park to look for ways to Reduce, Reuse, and Recycle, extending our natural resources and decreasing emissions. Make a choice to make a difference. What will you do?
Reduce
Dependence on fossil fuel, by carpooling, using public transportation, and using electric, hybrid, or alternate-fuel vehicles.
Home heating and cooling by using automatic thermostats, adding insulation, and sealing cracks.
Use of electricity by changing conventional bulbs to compact fluorescents and LEDs, purchasing renewable energy from your utility company, replacing inefficient appliances, and by adding photovoltaic panels to your home.
Reuse
Containers and products.
Items by donating to a charitable organization.
Lawn and yard waste for composting.
Recycle
Aluminum cans, other metals, cardboard/plastic, and bottles.
Products by purchasing new items with recycled content.
Batteries, computers, paint, oil, tires, and chemicals.