Logan Pass water system temporarily down

The water system will shut down Tuesday afternoon, July 22, and the temp system is anticipated to be working by the weekend. Visitors should bring water or refillable water bottles. There will be some water available to refill bottles in the parking lot. More »
St. Mary Visitor Center temporarily closed

It is believed that the furnace in the visitor center malfunctioned and caused the sprinkler system to activate early this morning. There is water damage to the building, its contents, and some of the utility systems. The damages are being assessed.
Logan Pass
At Logan Pass, Reynolds Mtn and Clements Mountain tower over fields of wildflowers that carpet the ground throughout the summer. Waves of yellow glacier lilies pushing up through the snow are quickly replaced by a variety of alpine plants adapted to this harsh, but spectacularly beautiful, habitat. Mountain goats, bighorn sheep, and the occasional grizzly bear lumbering through the meadows offer spectacular wildlife viewing opportunities.
Logan Pass is the highest elevation (6640ft.) reachable by car in the park. It is extremely popular with visitors and the parking lot is generally full between 11:00 a.m. and 4:00 p.m. Consider visiting this destination by using the free shuttles to avoid limited parking, or plan to visit early or late in the day if possible. Early morning light on the mountains provides excellent photographs and the chances to see wildlife are greater before the crowds arrive. Hiking two of the area's most popular trails, the Hidden Lake trail and the Highline trail, is the perfect way to build an appetite for a late supper back at camp or your hotel.
---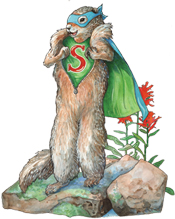 Artist-in-Residence, Myra Messick Simons
Super Powers Exhibit
The sub alpine ecosystem of Logan Pass is home to creatures with amazing abilities. They require special adaptations to survive at this elevation. It's almost like these animals have developed super powers. Learn about how these animals live and survive and how climate change may be making it more and more difficult for them.
Click here
to learn about the interactive experience behind Logan Pass Visitor Center.
---
Facilities, Services, and Activities
Logan Pass Visitor Center
Drinking water
Restrooms
Did You Know?

Did you know that over 35 Hollywood films were set in Glacier National Park? In honor of film being an American tradition, the Glacier Centennial Program hosted a film festival throughout 2010.