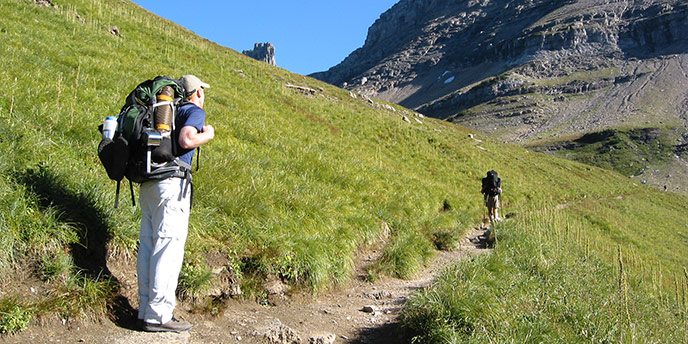 NPS Photo by David Restivo
Glacier Guides offers guided day hikes and backpacking trips into Glacier's backcountry for one to seven days. Custom trips are available. Backcountry Sherpa/porter service is also available, carrying visitor's gear into backcountry campgrounds or chalets. Camping equipment is available for rent at their West Glacier office.
For information and reservations contact:
Glacier Guides Inc.,
P. O. Box 330,
West Glacier, MT 59936
(406) 387-5555
(800) 521-RAFT
http://www.glacierguides.com/

Swan Mountain Outfitters offers drop-camp service, packing visitors gear into certain backcountry campgrounds, using stock. A backcountry permit is required.
For more information contact:
Swan Mountain Outfitters
P.O. Box 130278, Coram, MT 59913
(406)387-4405
(877)888-5557
http://www.swanmountainoutfitters.com/glacier