Sandy Hook's False Tip Closed

The false tip area of Sandy Hook is closed due to safety concerns while the Army Corps of Engineers continues their dredging operations.
Your Park! Your Health!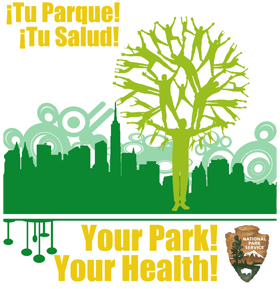 Have fun getting healthy at Gateway
Your Park! Your Health! offers healthy adventures at Gateway National Recreation Area for New Yorkers of all ages. Interns introduce new visitors to hiking, kayaking, sailing and overnight camping. Activities promote fitness, fun and learning through exploration of natural and historic sites in Jamaica Bay.
Originally titled ¡Tu Parque! ¡Tu Salúd!, the program began in 2011 as an outreach to Spanish-speaking communities near the park. It was funded in part thanks to a grant from the American Heart Association to promote healthy exercise in national parks through Life's Simple 7 Action Plan. The new program excited park visitors and interns alike. See for yourself in these testimonials via Facebook by interns Angelia Muñoz, Crissy Rodriguez and David Mercado.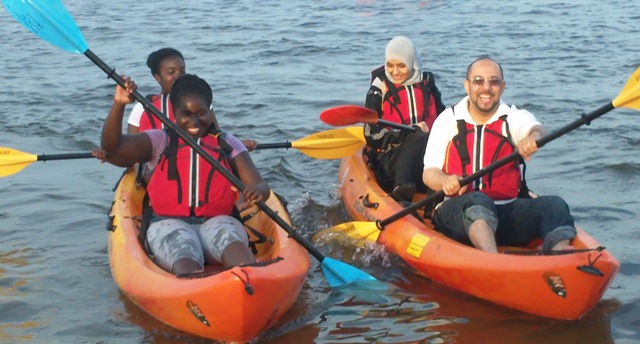 NPS PHOTO by Sheridan Roberts
2012: New name, same fun activities, broader mission
In 2012, again with the support of the American Heart Association, the program continued under a new name to embrace a wider diversity of park visitors, including the large Hindu community that lives near Jamaica Bay and visits the area for religious as well as recreational reasons. Check out intern Enam Hasan's testimonial on YPYH's Facebook page.
National parks are natural places to promote fitness for all Americans, whether through America's Great Outdoors Initiative or with Healthy Parks, Healthy People. As America's first urban national park, Gateway brings a national park experience to the diverse population of New York City and New Jersey. With Your Park! Your Health!, Gateway hopes to create a model for engagement between local urban communities and National Park Service staff for years to come.
Join our Facebook page and get connected to healthy fun at Gateway!
Did You Know?

Did you know that many celebrities visited Fort Hancock in World War II? Judy Garland performed for the soldiers at Fort Hancock in 1943. Lana Turner also visited the fort during the war. More...