Sand Replenishment at Jacob Riis Park Beach

Sand replenishment at Jacob Riis Park Beach has begun. During this project, sections of the beach will be closed to the public for their safety. Replenishment is expected to take up to two weeks.
The Floyd Bennett Field Archery Range will be closed on October 22

Sections of the archery range parking lot will be excavated by the Army Corps of Engineers, to remove defunct fuel lines. The archery range will reopen October 23.
Your Park! Your Health!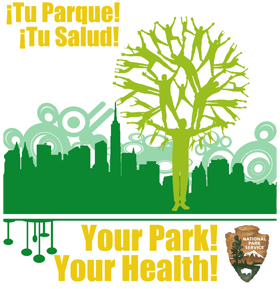 Your Park! Your Health! inspires dynamic engagement between diverse audiences in NYC / NJ and their national park!
Over the summer, a team of multi-cultural college interns work to achieve their personal fitness goals while leading fun adventures in New York City's urban outback.
Lets Go To Gateway!
Originally titled ¡Tu Parque! ¡Tu Salúd!, the initiative began in 2011 with funding through a grant from the American Heart Association to engage Latino New Yorkers in active outdoor recreation. Reflecting the program's growing popularity and cultural diversity among participants, the title was changed in 2012 to Your Park! Your Health!.
Now entering our 4th season, Your Park! Your Health! at Gateway continues to work with American Heart Association. We are pleased to partner this season with eight new local and national organizations to encourage community wellness and invite participation with the park.
Your Park! Your Health! 'Lets Go!' activities are offered in all parts of Gateway including Staten Island and Sandy Hook, NJ.
In It to Win It: Together!
Parks are a natural 'fit' for improved health and enhanced quality of life, whether through America's Great Outdoors Initiative or Healthy Parks, Healthy People. As America's first urban recreation area, Gateway brings the national park experience to audiences in New York City and New Jersey. With Your Park! Your Health!, Gateway is establishing an inter-active model of engagement between the National Park Service and people of every age, interest and background!
Join our Facebook page and get connected to healthy fun at Gateway!
Did You Know?

Each year some 4,000 Volunteers-in-Parks contribute over 80,000 hours of their time to protect Gateway's natural and historical resources and assist visitors. More...