Sand Replenishment at Jacob Riis Park Beach

Sand replenishment at Jacob Riis Park Beach has begun. During this project, sections of the beach will be closed to the public for their safety. Replenishment is expected to take up to two weeks.
The Floyd Bennett Field Archery Range will be closed on October 22

Sections of the archery range parking lot will be excavated by the Army Corps of Engineers, to remove defunct fuel lines. The archery range will reopen October 23.
Temporary Food Events (TFE) permits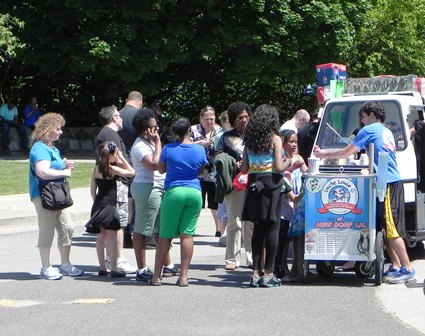 NPS PHOTO by John Harlan Warren
Selling food items at a park event
Many special events that involve serving food to the public occur on Gateway National Recreation Area property each year. The Temporary Food Event Permit program was designed and implemented to protect and promote the health and safety of event attendees by requiring food safety training and inspection of food vendors. The FDA Food Code mandates that regular food safety inspections occur for public food service on federal land.
Who needs a Temporary Food Event (TFE) Permit?
Any vendor or organization intending to sell or give away food or samples of food to the public from a fixed or temporary location for a period of less than 21 consecutive days in conjunction with an event on Gateway property requires a TFE. Examples include festivals, musical and artistic presentations, holiday and ethnic celebrations, trade shows, mobile food trucks, mobile food tents and product introductions at which food is sold, sampled, or given away to the public. Vendors intending to sell food must also obtain a Commercial Use Authorization (CUA).
Which vendors do NOT need a TFE?
Private functions not open to the public do not require a TFE permit. These types of events may need a different type of permit. For more information about what permits are needed at the park visit the Special Park Uses Permits page.
What is the TFE permit process?
In order to obtain a TFE Permit at Gateway, the person or organization coordinating an event must first obtain a Special Use Permit for the event where food will be provided. After acquiring a Special Use Permit, the event organizer shall submit the complete TFE applications to their GNRA contact including all organizer and vendor information, complete vendor list, and appropriate fees at least 14 calendar days prior to the event. Information must be submitted at least 30 days prior if more than 20 vendors will be listed on the TFE permit.
After you have obtained a permit to host an event at GNRA, the permit staff will inform the Public Health Officer about public food service at the event. At that point you as the event organizer should distribute a Food Vendor Application (and a CUA Application if they intend to sell food) to each of your vendors.
Once completed, the Food Vendor Application should be submitted together via email to the Public Health Officer for review. Applications may also be faxed to (718) 354-4512 or sent in the regular mail to the address below:
Lt. Bill Fournier
210 New York Avenue
Staten Island, New York 10305
After the Public Health Officer has reviewed the applications, event organizers and food vendors will be notified whether they have been approved or denied to participate in the event. Temporary Food Event Permits are granted at the event after vendors successfully pass food safety inspection. Permits are generally valid for the duration of the event only. Therefore, subsequent events require another application and inspection.
All vendors must comply with the most current version of the FDA Food Code. Before applying for a TFE permit, please make sure that you are familiar with food code requirements as well as guidelines for providing samples.
Questions?
Please e-mail us or call 718-354-4629.

Permits

Commercial filming and photography and planning large, one-time events require permits from one of Gateway's three units: Sandy Hook, Jamaica Bay or Staten Island. How do you do that? Start by clicking here. Read More

NPS Laws and Policies

Like all national parks, Gateway was created by federal law. See what laws govern the park and how laws and regulations affect you as a visitor and a citizen. Read More
Did You Know?

Before they built the first airplane, the Wright Brothers were bicycle manufacturers. Today, the historic runways of Gateway's Floyd Bennett Field are used by cyclists throughout the year. More...