Sandy Hook's False Tip Closed

The false tip area of Sandy Hook is closed due to safety concerns while the Army Corps of Engineers continues their dredging operations.
Jamaica Bay Unit Permits
NOTE: Jamaica Bay Unit is only selling permits for areas open to the public at this time.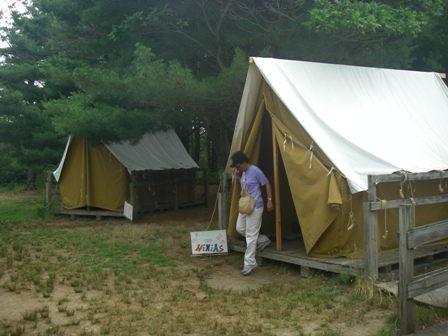 NPS PHOTO
Permits are required for group campgrounds, community garden plots, archery, fishing area parking and picnicking. Call 718-338-3799 for further information.
Breezy Point: A four wheel drive beach permit will be available for $50, on May 1, 2013. The four wheel drive permit is valid anywhere at the park where the fishing parking permit is honored, but includes allowing the driver to the tip of Breezy Point. These permits are available in limited numbers, often selling out within a few weeks.
The operator must present the following equipment at the time of permit registration and carry each item at all times when driving off road at the Breezy Point Tip: 7 foot (minimum) fishing pole, reel and tackle, shovel, tow chain or rope, jack, jack support board, tire pressure gauge, appropriate spare tire, trash container (trash bag) and portable toilet. Call 718-338-3799 for season and permit distribution information.
Application for Special Use Permit: A Special Use Permit is required when use of a park goes beyond basic visitor use or has potential impact on park resources. A non-refundable application-processing fee must be submitted with all applications. Call 718-338-3799 for any questions. See, our permit conditions, to find out what you can and cannot do with a permit.
Application for Photography/Filming Permit: A non-refundable application-processing fee must be submitted with all commercial filming and still photography applications for use of buildings and grounds at Jamaica Bay Unit. Other fees are associated in a national park; call 718-338-3799 for more information.
Jamaica Bay Unit

Maps of Floyd Bennett Field, Wildlife Refuge, Fort Tilden, Jacob Riis Park Read More

Driving Directions to Jamaica Bay Sites

With the right driving directions you can practically fly to Jamaica Bay. Well, almost. Read More

Jacob Riis Park Bathhouse

The Jacob Riis Park Bathhouse was opened in 1932, and remodeled in 1937 under Robert Moses. Read More
Did You Know?

Did you know that Fort Hancock, unlike most Army posts during World War II, had a racially integrated unit? The 1225th Army Service Unit had African-American soldiers and in 1943 received a group from the Women's Army Corps. More...