Jamaica Bay Kayak Trails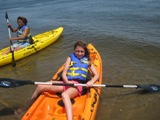 NPS photo
Jamaica Bay Kayak Trail
Although many of the National Park Service kayak launches in Jamaica Bay are closed currently, Floyd Bennett Field's Seaplane Ramp and Mill Basin Launch are just re-opened. Bookmark this page for news of more openings and upcoming programs. The kayak launch sites within Jamaica Bay offer opportunities for every level of paddler. Whether you canoe, kayak, or row, you will find launch sites and trips that meet your skill level. Before you launch, please download the Jamaica Bay Kayak Trail Map for important safety and regulatory information.
In order to launch after-hours in Jamaica Bay, or at anytime at kayak launch facilities at Riis Landing and Rockaway Point, you must first obtain a permit at the Floyd Bennett Field Ranger Station. Permits are no longer required, dawn to dusk, at Plumb Beach, Floyd Bennett Field Seaplane Ramp, Mill Basin, Canarsie Pier, and the North Channel Bridge. Call (718)338 3799 or e-mail us for more information.
Also available to visitors of Jamaica Bay are a number of boating programs, including kayaking, canoeing, and sailing.
Did You Know?

Did you know that many celebrities visited Fort Hancock in World War II?  Judy Garland performed for the soldiers at Fort Hancock in 1943. Lana Turner also visited the fort during the war. More...