Sand Replenishment at Jacob Riis Park Beach

Sand replenishment at Jacob Riis Park Beach has begun. During this project, sections of the beach will be closed to the public for their safety. Replenishment is expected to take up to two weeks.
The Floyd Bennett Field Archery Range will be closed on October 22

Sections of the archery range parking lot will be excavated by the Army Corps of Engineers, to remove defunct fuel lines. The archery range will reopen October 23.
Jamaica Bay Kayak Trails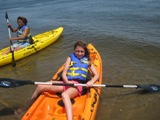 NPS photo
Jamaica Bay Kayak Trail
The seven National Park Service kayak launches in Jamaica Bay are open. Bookmark this page for links to upcoming programs, tide charts and float plans. The kayak launch sites within Jamaica Bay offer opportunities for every level of paddler. Whether you canoe, kayak, or row, you will find launch sites and trips that meet your skill level. Before you launch, please download the Jamaica Bay Kayak Trail Map for important safety and regulatory information.
In order to launch after-hours in Jamaica Bay, or to park at kayak launch facilities at Riis Landing and Rockaway Point, you must first obtain a permit at the Ryan Visitors Center. Permits are no longer required, dawn to dusk, at Plumb Beach, Floyd Bennett Field Seaplane Ramp, Mill Basin, Canarsie Pier, and the North Channel Bridge. Call (718)338 3799 or e-mail us for more information.
Also available to visitors of Jamaica Bay are a number of
seasonal boating programs,
including kayaking, canoeing, and sailing.
Did You Know?

Fort Wadsworth, located on Staten Island at the Narrows (next to the Verrazano Bridge), is one of the oldest military sites in the nation. This site has controlled the entrance to New York Harbor since the Washington administration.