Sand Replenishment at Jacob Riis Park Beach

Sand replenishment at Jacob Riis Park Beach has begun. During this project, sections of the beach will be closed to the public for their safety. Replenishment is expected to take up to two weeks.
The Floyd Bennett Field Archery Range will be closed on October 22

Sections of the archery range parking lot will be excavated by the Army Corps of Engineers, to remove defunct fuel lines. The archery range will reopen October 23.
Gateway on Google Earth

Google Earth is a virtual globe program that maps the earth by the superimposition of images obtained from satellite imagery, aerial photography and GIS 3D globe. The viewer is available for free download at Google Earth. The product is designed for use on newer computers with broadband or higher levels of connection.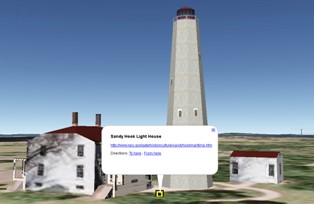 Google Earth 2010
Jamaica Bay Kayak Launch Site
We invite you to explore the salt marshes of Jamaica Bay from your kayaking or other non-motorized crafts. You can launch from seven different sites in the Bay.
Places of Gateway
Explore the special places Gateway online.
Each point contains a link to our park website for more information or directions to that point.
Please Note: As you close Google Earth, the program will ask you if you wish to save these items in My Places. To ensure that you continue to view the most current data, select "Discard".
References to non-U.S. Department of the Interior (DOI) products do not constitute an endorsement by the DOI.
Did You Know?

Did you know that the Sandy Hook Light was dimmed in World War II and painted in camoflague? Homes and businesses within five miles of the ocean were required to use blackout curtains in order to protect ships from attacks by German U-Boats. More...