Sand Replenishment at Jacob Riis Park Beach

Sand replenishment at Jacob Riis Park Beach has begun. During this project, sections of the beach will be closed to the public for their safety. Replenishment is expected to take up to two weeks.
Fort Hancock 21st Century Committee Meeting Cancelled

The meeting scheduled for Friday, October 17 has been cancelled. The next meeting will be Friday, December 12. More »
Camping at Gateway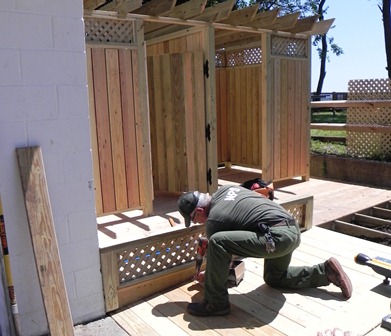 NPS PHOTO by Kailie Swails
Camp overnight at all three units of Gateway
In 2011, Gateway expanded campgrounds at Floyd Bennett Field from four to 38 sites. In 2012, overnight tent camping has been expanded to select areas of Sandy Hook, New Jersey and Fort Wadsworth on Staten Island. Reservations are available now at www.recreation.gov under "Camp Gateway." Most camping at Gateway is "primitive" tent camping, but different areas offer different anemities.
Learn more about camping at:
Floyd Bennett Field, Brooklyn
Fort Wadsworth, Staten Island
Sandy Hook, New Jersey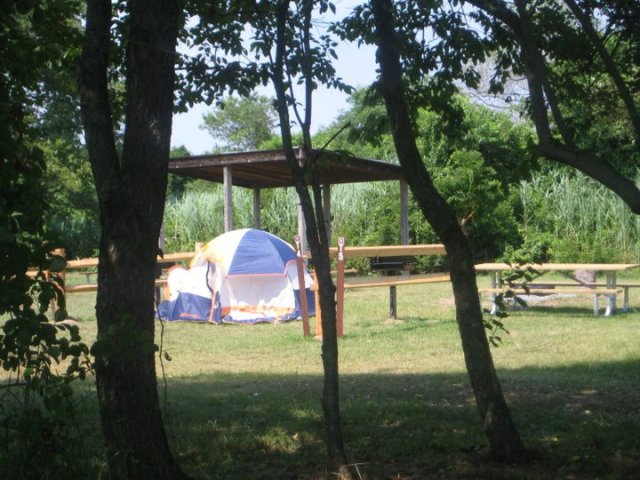 NPS PHOTO
Overnight campsites include the following:
Rates: $20 per day for a maximum of 14 days.
Size limits: Up to six people may camp at a single site. Larger families and groups will need to reserve multiple camp sites. Sites are large enough for one large tent or two small tents.
What to bring: Your own tents and sleeping bags. A pad underneath your sleeping bag may cushion you better for a better night's sleep. Bring sunscreen and insect repellant as well.
What NOT to bring: Alcohol, pets, and charcoal grills are NOT allowed at tent camping sites. Glass containers are not allowed anywhere in the park.
Recreational Vehicles (RVs) at Floyd Bennett Field only: There are presently nine RV camp sites with another 11 planned for the near future. Water, sewer and electrical hookups are NOT available. Tents are not permitted in RV sites. Neither Fort Wadsworth nor Sandy Hook can accommodate RVs.
Showers: Showers are not available at Sandy Hook. At Fort Wadsworth, a cold-water shower is available to campers during the camping season. At Floyd Bennett Field, hot- and cold-water showers, located across from the camp grounds, are open daily May through October, 9:00am - 2:00pm.
See another side of Gateway!

Gateway's Jamaica Bay, Sandy Hook and Staten Island Units each offer natural, historic and recreational delights. Check out what you can do at your local national park. Read More

Birds of Gateway

Over 325 bird species stop over or spend the summer at Gateway, coming from as far away as Chile and Argentina. Read More

From Rodman Guns to Radar

Gateway's military history includes Civil War-era forts as well as radar and nuclear missile sites. Read More
Did You Know?

Did you know that the Sandy Hook Light was dimmed in World War II and painted in camoflague? Homes and businesses within five miles of the ocean were required to use blackout curtains in order to protect ships from attacks by German U-Boats. More...