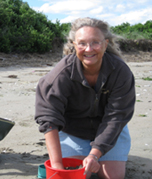 A Fond Farewell!
Well, this has been an educational and event filled summer. As a Teacher-Ranger-Teacher at Gateway National Recreation Area in the Jamaica Bay Unit, I have experienced New York from a variety of perspectives. I accompanied researchers in the field to learn about how resources are managed and protected. I met park visitors and summer campers, and shared with them the uniqueness of Gateway. As a teacher I've had the privilege of reviewing and writing programs about the environment and its resources so that visitors develop a stronger connection and sense of stewardship with the park. Being a first-time visitor to New York, I also experienced buses, subways and "the city", as well as the beaches and urban ecology.
Some highlights of my adventure include:
· Birds. Some of my favorite moments have been listening to and watching the variety of birds on the shore, in the grasslands and uplands. One of my new favorites is the Oyster Catcher!
· Science. I helped count birds, collect horseshoe crab eggs, observe piping plovers and other birds, listen for frogs and trap insect pollinators, all activities that relate to the science I teach in my classes.
· Programs. I've enjoyed the "aha" moments when visitors discover creatures and plants they've never seen before, or see familiar organisms with a new perspective.
· The skyline. I'm awed every time I look across the bay at the various distant structures. So contrasting and beautiful!
· Urban ecology-what a challenge!!
· People. New Yorkers are some of the friendliest people I've ever met, and my park service colleagues at Gateway have made this one of my most fun and memorable summers!
I am anxious to return home and share my insights and adventures with my family, friends, and colleagues, but I'm sad to be leaving so soon (a summer was definitely NOT enough time!). New York has hundreds of historical and modern wonders, and Gateway National Recreation Area is one of them. I have new friends, lots of pictures and memories, and a new world view. I would encourage everyone to sample New York some time in their lives, and teachers looking for an eclectic experience should consider spending a summer as a Teacher-Ranger-Teacher!