Volunteers Revive a Salt Marsh in Queens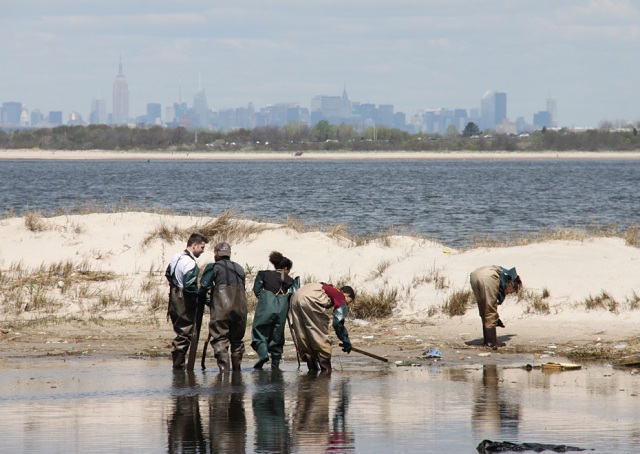 PHOTO BY DON RIEPE. USED BY PERMISSION.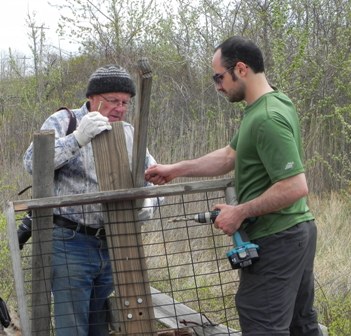 NPS PHOTO
Volunteer-in-Parks Shervin Hess sat by a pile of wood, gazing at Jamaica Bay and the Manhattan skyline. He was tired but happy. "This is just from today," he said, looking at the pile of lumber from shipping docks and construction sites. "It's 20 feet long and six feet high, weighs maybe a ton or more." About 75 volunteers from Bloomberg L.P. and the American Littoral Society gathered the lumber from the last remaining salt marsh in Breezy Point, Queens, located within Gateway National Recreation Area. Two more dumpsters were loaded with wood that had washed into the marsh over several decades.
"The salt marsh back there is pretty cool," remarked Kathy Silva, who was born in Breezy Point. "I didn't even know it was there." Silva, who now lives in nearby Roxbury, enjoys walking the beaches and observing piping plovers and other wildlife that make their homes here. "One piece of wood moved will make it better for everyone else."
Normally, Hess comes out here alone or with a few others, including his wife Irene. Since October 2010, he has missed only one week. "I was here during all those snowstorms, seeing all the animal tracks," Hess remembered. "After awhile, you feel emotional ownership of the place. Yes, it belongs to everybody, but when you work in it every week you get to know it like you'd know a friend. You'll see something that surprises you." Recently he had spotted his first greater yellowlegs, a bird found in tidal marshes. "It's always exciting."
For the heavy lifting, though, Hess needs a lot of help. Don Riepe, president of the Northeast Chapter of the American Littoral Society and a former National Park Service employee, receives calls from corporations such as Bloomberg and other groups. Riepe steers larger groups to several projects, including the salt marsh cleanup at Breezy Point. "Don has been responsible for bringing hundreds and hundreds of people out here," Hess said. "We absolutely could not have done this without him."
At the end of the morning, volunteers erected a platform for osprey nests. Volunteers built the platform entirely with wood salvaged from the marsh. Osprey, which are sometimes called "sea hawks" or "fish eagles," have recently been sighted in the area. Once established, an osprey nest is usually occupied year after year.
In addition to moving tons of lumber, volunteers spent hours raking up dried marsh grass cluttered with human garbage brought in by the tides. "That's what always catches your eye, he noted. "All these colors that shouldn't be there, like a red bag or a blue plastic bottle. What would it look like if you didn't see a single fleck of plastic out there?"
"My husband calls me the Queen of Trash," revealed volunteer Barbara Cohen, who just concluded 16 years as the American Littoral Society's New York state beach cleanup coordinator. "When I'm out and we're walking I see the plastic bag, the cigarette butts, of which there are billions." Still, as a 50-year resident of Jamaica Bay, she is happy to help restore a place that she loves. "You have the ocean on one side and Jamaica Bay on the other. Flora and fauna, this gorgeous skyline, the brant and geese—it's a very romantic place to be."
Before taking on the Breezy Point salt marsh, Hess had spent several years volunteering with projects that protected piping plovers with NPS employee Tony Luscombe. It was Luscombe who first suggested the project to Hess and who remains his principal contact. "He made it easy for me to do this," Hess said. "He put his faith in me that I'd do it the right way."
"Doing something as simple as removing garbage doesn't just get rid of an eyesore," Hess noted. "It's actually bringing back the wildlife." Piping plovers, osprey, sharpshinned hawks and egrets have also been seen in the area.
Despite his enthusiasm, Hess will soon be taking a break from the salt marsh. He and his wife Irene, who often helps and takes photos for their blog on the project, are expecting their first child in mid-August. He hopes that others will carry on with the project, perhaps within the local community.
Meanwhile, Irene and Shervin plan to make park stewardship a family value for their son. "When he's old enough," Hess said, "he'll be out here in a place like this, doing what we're doing."