Emergency Sheep Hunting Closure in Units 23 & 26(A)

All sheep seasons in Game Management Units 23 and 26(A) for all resident and nonresident hunters are closed due to severe decline in sheep numbers in the contiguous populations of the De Long and Schwatka Mountains. More »
Anaktuvuk Pass, Alaska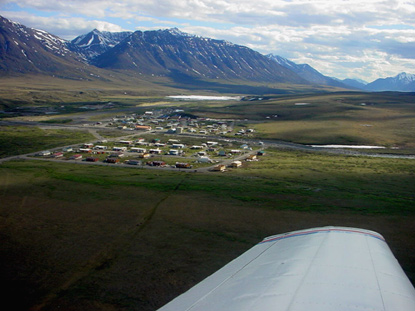 NPS photo
Anaktuvuk Pass (Map) is a remote village located within the Park and Preserve boundaries. It was established along a major caribou migration route in the early 1950s by the last remaining band of semi-nomadic Nunamiut Eskimo.
Even today, the residents continue to depend on caribou and other natural resources for food, clothing and cultural continuity.
Learn more about the history of Anaktuvuk Pass and the Nunamiut people who live there.


Did You Know?
Gates of the Arctic National Park and Preserve is the central component of the 700 square mile protected Brooks Range. Arctic National Wildlife Refuge is to the east, and the Noatak Preserve is to the west.