Bear Resistant Food Containers (BRFCs)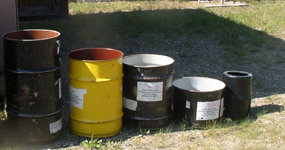 Gates of the Arctic ranger stations and visitor centers have BRFCs available to loan visitors, free of charge, on a first come-first served basis. Call ahead to check availability and come by the Bettles Ranger Station or Arctic Interagency Visitor Center before heading into the park and preserve. For information on the loan program and containers available click here.
The Interagency Grizzly Bear Committee and the Sierra Interagency Black Bear Group approve bear resistant food containers. They are defined as a securable container constructed of a solid nonpliable material capable of withstanding a minimum of 300 foot-pounds of energy. When secured and under stress, the container will not have any cracks, openings, or hinges that would allow a bear (or other animal) to gain entry by biting or pulling with its claws. Wood containers are not considered bear (animal) resistant unless they are reinforced with metal.
Please note that most ice chests and coolers, tents, dry bags or stuff sacks, plastic packing boxes (Totes, Action Packers, etc) and unmodified kayaks are not approved Bear Resistant Containers.