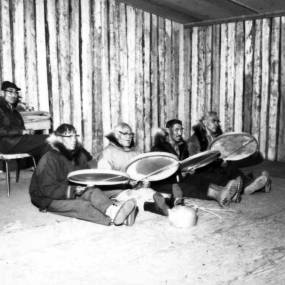 Anchorage Museum of History and Art
When many people think of Gates of the Arctic, they envision a vast, remote landscape with no sign of human presence. In fact, people have lived and travelled through this land for thousands of years. Because of a deal struck when the park was established, today the village of Anaktuvuk Pass exists within the boundaries of the park. The residents of Anaktuvuk Pass are nearly all Nunamiut, the mountain Eskimos who traditionally migrated on a seasonal path between the Brooks Range and the Arctic coast. These nomadic peoples had a diet and a lifestyle that revolved around the migrating herds of caribou on the North Slope.
During the 1940s, life began to change for the Nunamiut. Contact with outsiders brought a reliable supply of guns, ammunition, and foodstuffs which the people acquired in trade for wolf hides and other furs. The pilot Sigurd Wien, after trading with the Nunamiut for some years, convinced the band at Chandler Lake to relocate to the Anaktuvuk Valley, promising improved air service and the possibility of schooling for the children. By 1949, the Nunamiut—consisting of five families from Chandler Lake, followed by eight families from the Killik River—moved to a plateau at the headwaters of the John River and founded the village of Anaktuvuk Pass. Before long the community had its own school, airstrip, and church.