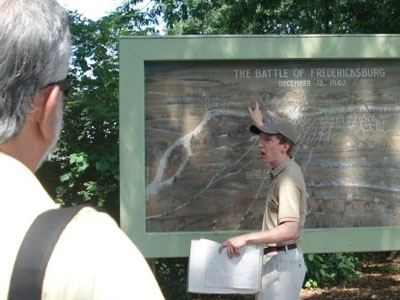 Jen Kordek
"I just couldn't pass up the chance to live on and work at these battlefields! I found the internship to be a truly rewarding experience--I gained confidence in public speaking and research, really enjoyed creating walking tours and sharing my insights with the public, and loved spending the summer in Virginia. Living and working on the battlefields also gave me a greater appreciation for the individual soldiers who fought in the conflict. Telling their stories on tours and walking in their very footsteps really brought home the horror of war to me in ways that merely visiting a park or reading a history book never had." --Andy Mach, intern 2009
An internship with Fredericksburg and Spotsylvania County Battlefields NMP provides an unforgettable, invaluable experience, and for many interns, the most rewarding summer of their lives thus far. Park interns work on the "front lines" of history by serving the public and sharing the past with modern visitors, fine-tuning both their research and presentation skills. Our internship program is an excellent opportunity for students and recent graduates to apply knowledge learned in the classroom, gain experience, meet professionals in the field, and often to determine which aspect of their chosen field is of greatest interest.
For the summer of 2015, we plan to bring on approximately 8 Historical Interpreter interns, possibly 1 Maintenance intern, and possibly 1 Curatorial intern.
While we offer a variety of internships, the most popular--and most crucial--position is that of Historical Interpreter. Park housing (free to interns) is reserved for these interns first, and they constitute a core part of our summer work force. Summer interns can expect to work 5 days a week, and spring and fall interns work 2-5 days per week. Weekend work may be required. Other internships are offered as available, depending on workloads and available projects.
Take note: Internship applications are accepted on a continuous basis, and interested individuals are encouraged to submit applications early. Interviews and selections for summer internship positions are ongoing in December and January, and after February 1st potential applicants should contact the park to see if positions remain available before submitting an application.
To apply for an internship please either send our application as an attachment to Elizabeth_Parnicza@nps.gov or print it and mail to the address below. Be sure to explore the various internship options below to see which opportunity best suits your interests.
Interns share park housing with seasonal employees and other volunteers, and must participate in housecleaning assignments. Interns can expect to have their own rooms, and the houses include kitchen and laundry facilities and a telephone. A stipend providing meals and mileage reimbursement is offered to Historical Interpreter interns.
Internships are very different from the temporary employees hired primarily over the summer. If you are looking to apply for seasonal employment, the best method is online at USAjobs.gov to see which parks currently have listings. Fredericksburg and Spotsylvania accepts Park Guide and Visitor Use Assistant applications for spring/summer positions during one-week periods over the fall, winter, and spring.