The only way to get inside Frederick Douglass's historic house is to be on a guided tour. Rangers guide interpretive tours of the house every day at the scheduled times listed below. Tours cover the first and second floors of the house, and they last about thirty minutes. Restored to its circa 1895 appearance, the house is furnished with original objects owned and used by Frederick Douglass and his family.
Want to get an idea of what you're going to see during your visit? Take our virtual tour.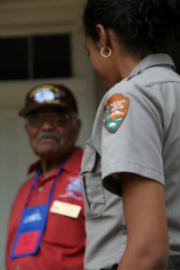 NPS
Standard Tours (1 to 10 people)
Space is limited to ten people on the standard tour. Reservations are not required, but they are
strongly encouraged
. To make a reservation, visit
recreation.gov
or call 1-877-444-6777. There is a $1.50 fee for each reserved ticket. Reservations must be made at least one day in advance.
Unreserved tickets are free to the public and are available on a first-come, first-served basis.
Standard tours are every day at the following times:
9:00 am
12:15 pm
1:15 pm
3:00 pm
3:30 pm (cannot reserve; available for walk-ins only)
4:00 pm (available April through October only)
Group Tours (11 to 60 people)
Reservations are required for group tours. Call 1-877-559-6777 at least one week in advance to make reservations. There is a $1.50 fee for each reserved ticket. School groups pay a flat fee of $5.00.
Group tours are available every day at the following times:
Recommendations and Rules
Visitors must check-in at the visitor center before the tour time; we recommend showing up a half-hour before your tour begins so you can read exhibits, view the film, and use the restroom.
Visitors cannot join a tour after it has entered the historic house.

Strollers, tote bags, backpacks, and other large bags are not allowed in the historic house.

Eating, drinking, chewing gum, and smoking are not allowed in the historic house.

Photography is permitted, but please keep your flash off to protect light-sensitive objects.

The historic house is on top of a 51-foot hill. It can be reached either by climbing 85 stairs or by taking a ramp. See our

safety

and

accessibility

pages for more information.

There are no restrooms in the historic house.