Operating Hours & Seasons
Park Hours
Fort Union Trading Post National Historic Site is open daily throughout the year except for Thanksgiving, Christmas, and New Years Days.
Although located in two time zones, Fort Union operates on central time.
Summer Hours (Memorial Day through Labor Day): Daily from 8 a.m. to 6:30 p.m. Central Time (CT)
Winter Hours (Labor Day to Memorial Day): Daily from 9 a.m. to 5:30 p.m. CT
Bourgeois House/Visitor Center
Open all year during the regular park hours indicated above.
Located in the center of the fort's courtyard, the Bourgeois House/Visitor Center features exhibits and close-captioned videos that document Fort Union's life and history as a trading post between 1828 and 1867. The exhibits include artifacts recovered during the extensive archaeological excavations that made the fort's reconstruction possible.

In addition to ranger-staffed information desk, exhibits, and videos, the Bourgeois House/Visitor Center contains the following facilities: the cooperating association bookstore, which sells reproduction trade goods and books; handicap-accessible restrooms, a water fountain, a water bottle filling station, and beverage and snack vending machines.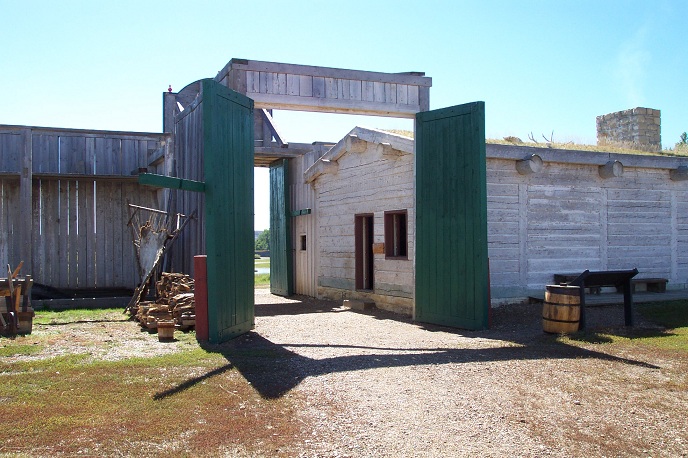 NPS
Trade House
Open Memorial Day through Labor Day from 10 a.m. to 5:45 p.m. Central Time
Located immediately inside the fort's main, or south, gate, this accurately reconstructed Trade house is staffed by a park ranger dressed as a fur traders from the 1850s. The trader presents informative programs on the history of the trading post and the commercial and cultural exchanges that occurred here. The reception room is furnished to look as it did in sketches produced by a post clerk in the early 1850s, while the trade room is stocked with replicas of the actual goods traded with the Upper Missouri tribes during the posts 39 years in operation.


Fort Union Special events

Three major special events are held during the summer