The Grandest Fort on the Upper Missouri.
From 1828-1867 Fort Union was the most important fur trading post on the Upper Missouri. Here, seven Northern Plains Indian Tribes, including the Assiniboine, traded buffalo robes and other furs for goods such as cloth, guns, blankets and beads. This fort was a bastion of peaceful coexistence, annually trading over 25,000 buffalo robes and $100,000 of merchandise.
Features
Peaceful Coexistence

Relations between local American Indian tribes and AFC employees were usually peaceful as trade was mutually beneficial.

Read More

Who did they trade with? What was traded?

The fort traded with Northern Plains Indian Tribes primarily the Assiniboine. They traded bison and other furs for manufactured trade goods.

Read More

What did they find in archeological digs?

Archeological digs from 1978-1989 unearthed over 1,000,000 artifacts! The diversity of artifacts makes it one of the largest fur trade collections.

Read More
Did You Know?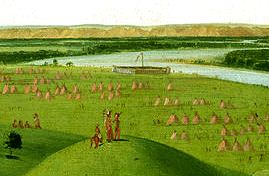 During George Catlin's trip up the Missouri River in 1832 he visited Fort Union Trading Post and the Knife River Indian Villages. On this trip he put to pen the idea which became the inspiration for the National Park System.