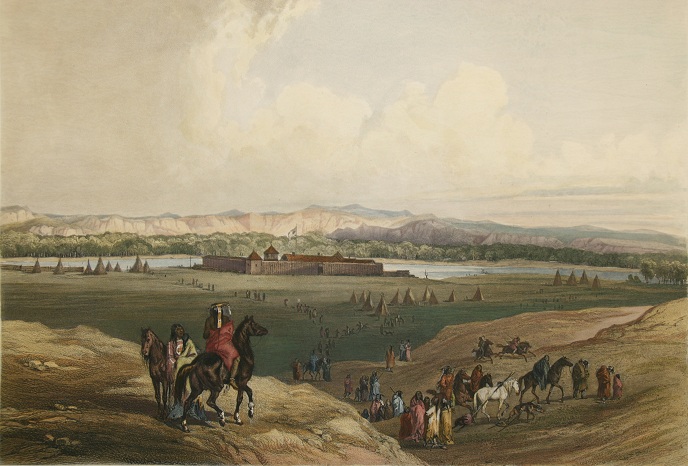 A lithographic print of "Fort Union on the Missouri" published circa 1843 (FOUS 2761). NPS
The Indian and fur trades weren't the only post activities that contributed to Fort Union's longevity and legacy. The American Fur Company and its successors routinely hosted well-known visitors during the fur trade period. George Catlin, Prince Maximilian of Wied, Karl Bodmer, and John James Audubon were but a few of the many artists and scientists who came to the Upper Missouri fort to learn about and document the region's native peoples, wildlife, and landscape. Their observations, recorded in sketches, paintings, and journals later shared with people in the East and overseas, made the region the most well documented in the American West prior to photography's widespread adoption.
By the 1860s, the Upper Missouri area these artists and scientists had visited was experiencing dynamic political and social change. Settlers moved west from the States, a migration that accelerated not long after the Dakota Territory was established in 1861. To protect at first the Missouri River, the major transportation corridor into the Northern Plains, and then the growing Euro-American settlements in the formerly tribal-controlled Upper Missouri region, the U.S. Army in 1866 built Fort Buford three miles east of the trade post. The next year, in 1867, the Army purchased Fort Union from its last private owner, the Northwest Fur Company. Soldiers dismantled the palisades and bastions and transported the salvaged timber and stone to the new Army post, where both were used for building materials. The crews of passing riverboats also scavenged what wood they could for firewood to feed steam engines powering the Missouri River's swelling steamboat traffic. Within a few years, little visible trace remained of the Upper Missouri's once-dominate commercial hub.
A century later, following decades of periodic attempts to preserve Fort Union's legacy, local citizens and historians launched a sustained campaign to preserve the historic fort site and rebuild the post. At their urging, the National Park Service acquired the site in 1966. Two years later, archaeological excavations commenced and continued into the early 1970s. Today's Fort Union is a reconstruction based in part on the archaeological evidence recovered during those and later excavations completed between 1986 and 1988. Rebuilt to its appearance in 1851, at the height of the Indian and fur trades, the fort offers a place that helps illuminate the Indian and fur trades'—and the post's—role in shaping the land and culture of the Upper Missouri region and the Northern Great Plains.