Fort Sumter Elevators Out Of Service

The elevators at Fort Sumter are out of service until further notice. Disabled visitors departing from Liberty Square will have access to restrooms on board the ferry boat while at Fort Sumter. For more information, please call (843) 883-3123.
Laws & Policies
Fort Sumter National Monument was established to preserve and commemorate historical events at or near Fort Sumter. The site was so designated because of its history as a part of our nation's seacoast defense. Fort Sumter is rich in cultural and archaeological history, therefore, the National Park Service must be constantly aware of existing threats to the resource by those who would not respect its preservation ideals. The Service's mandate requires that it carefully plan and regulate the use of the park so that the park's resources are perpetuated and maintained unimpaired for future generations. Thus, the limits and kinds of use are circumscribed by requirements of resource management and protection. Please review Fort Sumter National Monument's park regulations for details.
For more information:


Did You Know?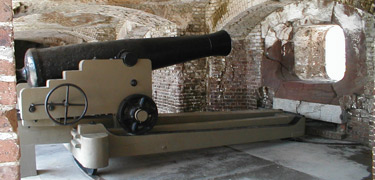 The first Union shot of the Civil War was fired by Captain Abner Doubleday. He was the second senior officer at Fort Sumter, under Major Robert Anderson. Fort Sumter National Monument, SC