Holiday Closures

All park sites will be closed on Thanksgiving Day (November 28), Christmas Day (December 25), and New Year's Day (January 1). This includes Fort Sumter, the Fort Sumter Visitor Education Center, and Fort Moultrie.
Where the American Civil War Began
Decades of growing strife between North and South erupted in civil war on April 12, 1861, when Confederate artillery opened fire on this Federal fort in Charleston Harbor. Fort Sumter surrendered 34 hours later. Union forces would try for nearly four years to take it back.
Did You Know?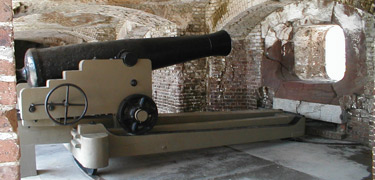 The first Union shot of the Civil War was fired by Captain Abner Doubleday. He was the second senior officer at Fort Sumter, under Major Robert Anderson. Fort Sumter National Monument, SC