No Elevator Serivce at Fort Sumter

The museum, restrooms, bookstore, and top level of Fort Sumter are only accessible by climbing stairs. For more information, visit the link below or please call (843) 883-3123. More »
No Water or Restrooms at Fort Sumter

Due to a break in the Charleston water line supplying Fort Sumter, restrooms and drinking water are not available at the fort. Please bring drinking water with you if you plan to visit. Water and restrooms are available aboard the ferries.
Fort Sumter Field Trip
Historic Fort Sumter is located in the middle of Charleston Harbor and is only accessible by boat. The Fort Sumter Visitor Education Center, a state-of-the-art and fully accessible facility located in downtown Charleston, is the primary ferry departure facility for visiting the fort. The Fort Sumter Visitor Education Center is located at Liberty Square, a quiet, park-like setting at the eastern end of Calhoun Street on the Cooper River and adjacent to the South Carolina Aquarium.
Before your group's ferry ride to the fort, take time in the Fort Sumter Visitor Education Center to explore the interpretive and visual exhibits. National Park Service rangers will answer students' questions and help them achieve a better understanding of the causes of the Civil War, why it began at Fort Sumter and what happened during the war. Also available at the Fort Sumter Visitor Education Center is a bookstore operated by Eastern National, a non-profit cooperating association. A percentage of proceeds from all bookstore sales are donated to the park's interpretive program. Restrooms and a water fountain are available for your group's convenience.
Admission to the Fort Sumter Visitor Education Center is free, however tickets for the authorized concession-operated ferry to Fort Sumter are required and may be purchased in advance when you schedule your group's visit. You may schedule a visit or inquire about group rates by contacting the ferry concessioner.
Requirement: One adult chaperone is required per 10 students.


Did You Know?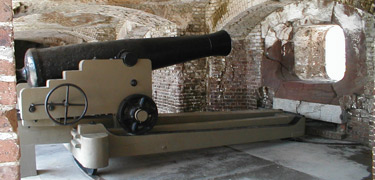 The first Union shot of the Civil War was fired by Captain Abner Doubleday. He was the second senior officer at Fort Sumter, under Major Robert Anderson. Fort Sumter National Monument, SC