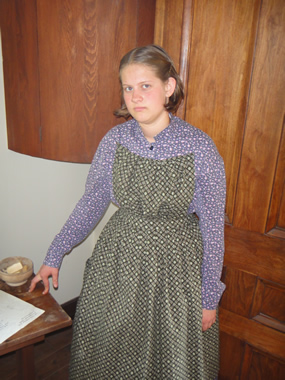 LAUNDRESS OUTFIT
Dress and apron – made of plain cotton and/or wool
Undergarments – Cotton drawers, camisoles, and petticoats.
Shoes – Black leather high-topped shoes.
Stockings – Long cotton stockings held in place by garters. Common colors were neutral or beige.
Hair – The laundress generally wore her hair smoothed back neatly into a bun. It would never have been worn loose during the day.
Head Coverings – A bonnet or day cap was worn at all times.

Some of the definitions on this page are based on information found in Laundry and Cleaning Practices of the Mid-Nineteenth Century by Virgnia Mescher, published by Nature's Finest, 1994. Used by permission.
.