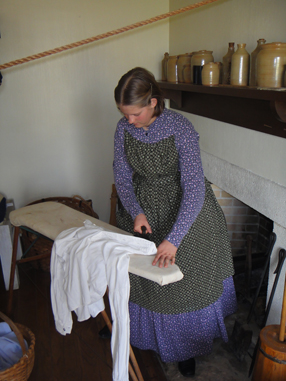 Ironing was an unpleasant task that was done after the day's washing. Then, as now, ironing was done to remove the wrinkles from the fabric. Prior to ironing, the garment would be sprinkled with water to make the fibers softer.
The most common type of iron was the flat iron, which was one solid piece of cast iron. It would be heated by placing it on a trivet over the coals of a fire. After heating, it could be used to iron clothes, but a cloth was required to hold the handle because it would be as hot as the rest of the iron. An ironing cloth was used atop the ironing board so that a smoother surface could be used for ironing, which translated into a smoother surface on the fabric.
* The dolly was sometimes used in the initial wash process instead of the washboard if the clothes were not too dirty.