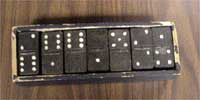 Table games
Some table games required a steady hand or quick wit to win. In other games, victory depended on the luck of the draw.
Dominoes - Playing dominoes was a favorite pastime the late 1800s. The game is still played today. Dominoes are flat, rectangular blocks called "tiles" or "bones." Each tile has two groups of dots on one side. The dots range in number from zero to six. Tiles with the same number both ends are called doublets.
One dominoes game is called Draw. The tiles are put in the middle of the table, face down. Each player draws three tiles and looks at them. The rest of the dominoes are left face down in the "bone yard." Whoever has the doublet with the most dots lays it on the table. The second player puts a domino with a matching number of dots against the doublet. Doublets are put down sideways, as shown on the left. The next player must lay a match at the free end of a tile. If he or she cannot, the player must turn over new dominoes until a match is found. The first player to lay down all of his or her dominoes wins.
Tiddlywinks - Almost everyone has heard of tiddlywinks, but few people know how this game is actually played. Players use a disk called a shooter to flip smaller disks called winks into a cup that sits in the middle of the playing area. The object of the game is to be the first player to sink all of his or her disks into the cup. In the past, players took this game very seriously and practiced flipping winks in their spare time.
Pickup sticks - Pickup sticks, or jackstraws, was a very popular game among North American settlers. The game was originated with American Indians. It was originally played with straws of wheat. To play, all that was needed was a pile of wood splinters or straws. Some fancy pick-up-stick games had ivory "straws." Modern versions of jackstraws use wooden or plastic sticks. The sticks are heaped in the middle of a table. Each player takes a turn removing one stick from the pile. The challenge is to do so without moving any of the other sticks.
Cards - In the early 1800s, most children's card games were designed to be educational. Card games helped children learn about math, geography, history and science. Some card games even taught girls about cooking.