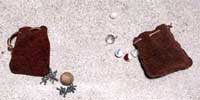 Marbles - Marbles were made of stone, pottery, clay, or china. Some had colorful swirls or strange designs. Children who had no marbles used musket balls, nuts, or hard berries to play instead. Marble collections were always changing, as children won, lost, and traded their marbles. A big bag of marbles was considered a treasure. Losing at marbles was very disappointing. Perhaps the expression "lost their marbles if began as a description of an angry loser!
Jacks - The game of jacks was played with small six-pronged objects called jackstones, or jacks. The first player started the game by throwing the jackstones on the ground. The other players then took turns tossing one jack into the air, picking up another jack from the ground, and then catching the flying jack as it came back down-all with the same hand! In the next rounds, players tried to grab two jacks, then three, then four. If someone failed to pick up enough jacks, or allowed the flying jack to hit the ground, that person was out of the game.
Tops - Tops were favorite toys with both boys and girls. They came in many different styles. Some were wound up with a string. Others had a long, round stem for spinning. Peg tops were the most common kind of top. They were made of a single carved piece of wood. A humming top was hollow and had a hole in one side. When it spun, it made a whistling or humming noise. Conqueror was an exciting game. Two players spun their tops so that the tops bounced against each other. The top that knocked the other over, while staying upright itself, was the winner. In other games, competitors tried to spin a top onto a target or see whose top could spin the longest.